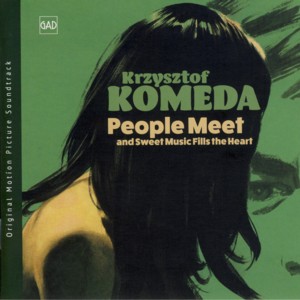 KRZYSZTOF KOMEDA ~ PEOPLE MEET AND SWEET MUSIC FILLS THE HEART (SOUNDTRACK)
GAD 060 (Barcode: 5901549197808) ~ POLAND ~ Soundtracks
Recorded: 1967
Released: 2017
---
This is an archival release of the previously unreleased soundtrack composed by the Godfather of modern Polish Jazz, Krzysztof Komeda

Find albums by this artist

, which accompanied the film with the above title, by Danish director Henning Carlsen

Find albums by this artist

, premiered in November of 1967. It was the last cooperation between Komeda and Carlsen, which continued for several years and produced some of the most striking European soundtracks ever to be recorded. The album presents the nineteen short pieces, which were incorporated within the film, as well as five bonus tracks which are outtakes or alternate versions from the recording sessions. The music was recorded in Denmark by a band and a string section, the lineups of which are unknown.

The music is typical Komeda cinematic work, which includes several wonderfully melodic themes and a series of musical fragments needed as background music for the film´s scenes. None of these themes "made it" into the classic Komeda standards, which became a part of the rich legacy of Polish Jazz, simply for the reason that this music was never released on record and was not played by Komeda´s groups, as he left for the US soon after the film was released. It was the last European film Komeda composed the soundtrack for, followed by a brief, but brilliant Hollywood career, tragically cut short by his death just a year and a half later.

Although not entirely within the Jazz idiom, the music is mostly closely related to Jazz, even on the background pieces, with the Jazz pulse present, with varying degrees of explicitly. The band features flute, saxophone, trumpet and a rhythm section, and on a few tracks also a string section, which of course also emphasizes the Jazzy side of the music. Komeda´s modern European Jazz was ideally suited to the European cinema of the mid 1960s, which was also trying to find its own esthetic and artistic quality different from the established American values.

For the many fans of Komeda all over the world this album is an absolutely essential addition to their collection and a wonderful missing piece of the puzzle. Elegantly packed and accompanied by intelligent liner notes, which present the historical background information about this music, this is a true gem. GAD

Find albums on this label

Records make history again!
---