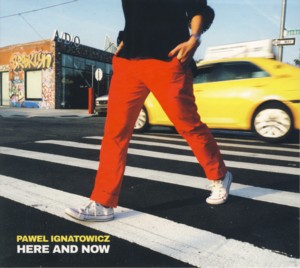 PAWEL IGNATOWICZ ~ HERE AND NOW
PRIVATE EDITION (Barcode: 888295649858) ~ POLAND ~ Jazz-Rock Fusion
Recorded: 2016
Released: 2017
---
This is the fourth release (second formal album) by Polish (resident in NY) guitarist / composer Pawel Ignatowicz

Find albums by this artist

recorded in a quintet setting with relatively young but already established musicians from the NY scene: keyboardist Julian Shore

Find albums by this artist

, bassist Edward Perez

Find albums by this artist

, Hungarian born drummer Ferenc Nemeth

Find albums by this artist

and tabla player Jonathan Singer

Find albums by this artist

. The album presents ten compositions, which although not specifically described as such on the album´s artwork, are all originals by Ignatowicz.

The music is a nice collection of melodic mainstream tunes, excellently performed by the quintet, as expected from a professional team like this one. Ignatowicz plays acoustic and electric guitars, guitar synthesizer and electric sitar, producing a kaleidoscope of sounds and effects, supported by a straight-ahead rhythm section. The overall result is a nice melodic album, which is fun to listen to, but is also easily forgotten, being simply not ambitious or innovative enough to make a lasting statement.

Although the rhythm section sticks to Jazz forms, the electric guitar sound, which dominates this album, pulls the resulting music towards Fusion and that´s how most listeners would probably classify it.

The album is sadly typically American, slick and glossy, but with very little contents, which is a pity as Ignatowicz probably is able to produce much more ambitious music than what is presented on this album. Guitar freaks might find this album interesting to some extent, but considering the mammoth amount of guitar albums out there, I wouldn´t bet on it.
---