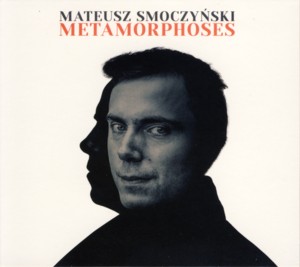 MATEUSZ SMOCZYNSKI ~ METAMORPHOSES
ZBIGNIEW SEIFERT FOUNDATION 4 (Barcode: 5907222048030) ~ POLAND ~ Jazz-Classical Fusion
Recorded: 2017
Released: 2017
---
This is the fourth album by Polish violinist / composer Mateusz Smoczynski

Find albums by this artist

and his debut solo violin recording. The album, recorded at the Krzysztof Penderecki European Centre for Music, presents thirteen compositions, four of which are parts of a violin sonata No.1, which gave the album its title. Smoczynski is the composer of eleven of these compositions, one composition is by his older brother Jan Smoczynski

Find albums by this artist

and one is by Mark Summer

Find albums by this artist

, the cellist and co-founder of the legendary Turtle Island Quartet

Find albums by this artist

. The closing piece of the album, called "Midnight Psalm", was inspired by the Zbigniew Seifert

Find albums by this artist

composition "Evening Psalm".

During the last decade Mateusz Smoczynski consistently paved his way to the top of the Polish violin scene, creating a remarkable collection of recordings as a leader, as a sideman and as member of the revered Atom String Quartet

Find albums by this artist

and winning the second edition of the Zbigniew Seifert International Jazz Violin Competition in 2016, an incredible achievement for a musician in his early thirties; all this on a scene which is bursting with talent and fierce competition.

This album is undoubtedly Smoczynski´s most ambitious undertaking to date, both as a player and a composer. Moving away from the home base of the Jazz idiom, the music on this album is obviously much more related to the contemporary Classical idiom, although the improvisation is still an integral and important ingredient. The compositions also bear close relation to Polish Folklore and Classical Music, soaked in typical melancholy and lyricism, which characterizes most of Polish music.

From the very onset of the music Smoczynski´s virtuosity becomes immediately apparent and the entire duration of the album is an ecstatic journey on the cascade of violin magic, which he manages to keep flowing relentlessly. Unrelated to the actual tempo of the compositions, the flow and energy is always there and the pure tones and clarity of every note are remarkable.

Although not a Jazz album per-se, this music should be of interest to a wide range of music lovers, obviously those who also love the violin. This music is demanding and requires attention and patience, but all great music puts forward similar challenges, and this one is no different. It will probably take several listening sessions to wholly comprehend the depth of this music, but the effort is definitely worth it! Wholeheartedly recommended!
---