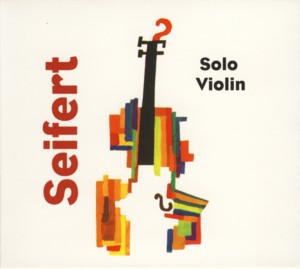 ZBIGNIEW SEIFERT ~ SOLO VIOLIN
ZBIGNIEW SEIFERT FOUNDATION 3 (Barcode: 5907222048023) ~ POLAND ~ Jazz
Recorded: 1976
Released: 2017
---
This is the first legitimate reissue on CD of the solo violin album by the legendary late Polish Jazz violinist Zbigniew Seifert

Find albums by this artist

. Recorded during a concert at Radio Bremen in 1976, the album was released only a couple of years later in Germany, and has been an extremely rare collector´s item in its original vinyl form for decades. The album presents just four original compositions, all by Seifert. Shortly before this music was recorded Seifert was diagnosed with cancer, which tragically killed him just three years later, and the album was supposed to pay for his medical bills.

Solo violin Jazz albums are extremely rare, and as such this album has been a beacon and a point of reference since its release as far as violin in Jazz is concerned. Seifert´s virtuosity and uniqueness are immediately apparent from the very first tones, and he does not cease to amaze for the entire forty seven minutes the music lasts.

Well trained listeners will obviously recognize the immense influence of John Coltrane

Find albums by this artist

´s music on Seifert´s playing, and Seifert has been many times referred to as the Coltrane of the violin. But beneath the Coltrane influence on the way Seifert improvises, one can also hear his deep European and Polish roots, not only in his compositions, but also in his tonality and expression, which are always deeply lyrical and melancholic, even at the height of the climatic eruptions.

In many respects this album tells more about Seifert than most of his other recordings, where he plays with other musicians and his playing is just a part of a bigger picture. The "nakedness" of this music in also 100% proof Seifert, at his absolute best. Therefore this album is so unique not only due to its unusual setting, but also due to the fact that it is presents Seifert isolated from all external influences and disturbances, in his most direct and straightforward self. The superb sound quality of this album enhances the experience of listening to the music enormously.

Of course this album is also exquisitely beautiful and powerful, and should leave absolutely no listener untouched. For Polish Jazz fans and Seifert´s numerous followers this album is obviously the Holy Grail of Polish Jazz recordings. Big thanks to the Zbigniew Seifert Foundation

Find albums on this label

, spearheaded by Aneta Norek

Find albums by this artist

, for bringing this National treasure back to life, for old admirers to enjoy again and new ones to discover.
---