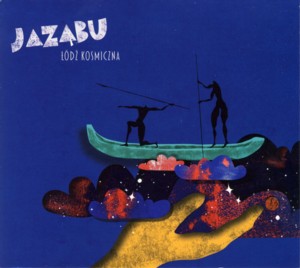 JAZABU ~ LODZ KOSMICZNA
AUDIO CAVE 2017/009 (Barcode: 5905669566414) ~ POLAND ~ Free Jazz / Improvised Music
Recorded: 2017
Released: 2017
---
This is the debut album by Polish Avant-Garde Jazz quartet Jazabu

Find albums by this artist

, which consists of trumpeter Wojciech Jachna

Find albums by this artist

, saxophonist Tomasz Glazik

Find albums by this artist

, guitarist Marek Kadziela

Find albums by this artist

and drummer Jacek Buhl

Find albums by this artist

. The album presents ten original compositions / improvisations, which are not credited on the album´s artwork and therefore assumed to be all co-composed by the four quartet members.

The music is quite typical Free Jazz / Improvised music offering, with short melodic lines stated at the beginning of the tracks, which are then developed into group improvisations and feature solos by the individual quartet members. Some of the tracks lack even the basic melodic theme and are completely improvised. The music appears to be working best when it is more contemplative and introvert, and as such delivers a deeply atmospheric musical aura. The more energetic pieces sometimes move into chaotic intensity. The lack of bass, which is only partly compensated by the guitar, creates a fluid, less rigorous rhythmic setting, which suits this music well.

Jachna and Glazik were members of the legendary Sing Sing Penelope

Find albums by this artist

ensemble, which was active since the turn of the Millennium, and their musical attitude was largely influenced by their formative years. Jachna and Buhl recorded several albums together in duo and trio formats and all three of them come from similar background. Kadziela is a bit of an outsider here, having been mostly associated with young Polish Jazz musicians active on the Danish scene, but since his return to Poland he is certainly more active on the local scene in several quite diverse environments. Together they represent an interesting amalgam of talent and musical experience, which definitely has a lot to offer.

Although I was not overwhelmed by the music on this album, probably mostly due to the fact that although beautifully performed it offers little innovation, I believe that their future offers might be much more exciting, considering their potential. Of course the album offers some great moments and impressive soloing and the connoisseurs of the Polish Avant-Garde scene should be quite happy with this music, which more than anything proves that Polish musician are still searching and making an effort to cover uncharted territory, rather than succumb to lethargy.
---