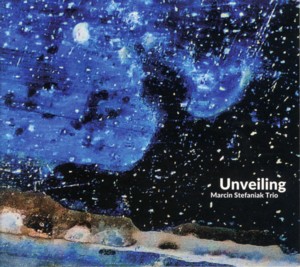 MARCIN STEFANIAK ~ UNVEILING
ALPAKA 004 (Barcode: 191924268277) ~ POLAND ~ Jazz
Recorded: 2016
Released: 2017
---
This is the debut album by young Polish Jazz saxophonist / composer Marcin Stefaniak

Find albums by this artist

, recorded in a trio setting with bassist Pawel Urowski

Find albums by this artist

and drummer Tomasz Koper

Find albums by this artist

. The album presents eight original compositions, all by Stefaniak.

The music is a striking version of modern Jazz, melody based but stylistically not really mainstream oriented, often atmospheric and lyrical with clear World Music influences, especially rhythmically. From the very first note it becomes immediately apparent that Stefaniak is both a brilliant composer and an extraordinary player, with clarity of tone and power of expression that usually characterizes musicians after decades of activity in the field. This sequence of compositions presents a coherent musical vision, which is consistently developed throughout the duration of the album.

Stefaniak´s long lines and extensive improvisations are in the best post-Coltrane tradition, with no breathing breaks and stupendous fluidity. He seems to be familiar with all the tricks of the trade and as a newcomer on the scene is nothing short of sensational. He is able to change to tone of his tenor and soprano saxophones quite dramatically within the different compositions, as if changing his personality. The soprano often sounds like a clarinet or even a flute, which is able to charm even the most deadly snakes into trance. The general impression Stefanski is able to make on this album is one of a remarkable gifted saxophonist, who has little, if any, limitations.

Although Stefaniak is obviously the centerpiece of the listener´s attention, the rhythm section is very prominently featured and becomes an integral part of the overall sound. Urowski is a very experienced player and his bass lines are the anchor of the music. He plays several solos, all of which are excellent illustrations of his fabulous abilities. Koper does a great job as well, limiting his input to the rhythmic necessities and being overtly melodic in his approach. Taken as a whole, the trio functions together splendidly, better than most saxophone trios around, despite the obvious difficulties involved with this specific combination of instruments.

Overall this is a stunning debut effort, definitely one of the best in 2017 on the Polish Jazz scene. On the surface this is perhaps not he most adventurous or unusual effort, but surely one of the most strikingly honest and musically rounded ones - something that happens quite rarely! Chapeau and most warmly recommended!
---