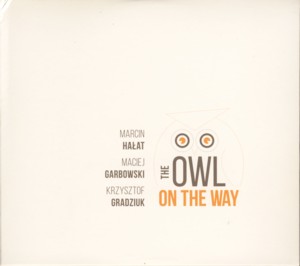 OWL ~ ON THE WAY
FSR 2017/07 (Barcode: 5905279364219) ~ POLAND ~ Jazz-Classical Fusion
Recorded: 2016
Released: 2017
---
This is the debut album by the Polish trio called The Owl

Find albums by this artist

, which comprises of violinist / composer Marcin Halat

Find albums by this artist

, bassist Maciej Garbowski

Find albums by this artist

and drummer Krzysztof Gradziuk

Find albums by this artist

(the last two well known as the rhythm section of the famous RGG

Find albums by this artist

trio). The double CD album presents fourteen original compositions, nine of which were composed by Halat and five were co-composed by all three members of the trio.

On the Polish Jazz violin scene, which is pretty crowded these days, Halat arrives as a newcomer, although he has years of experience of playing Classical Music. His sound is quite unusual and unconventional in many respects, surely not typically Jazzy, with obvious Classical phrasing, fingering, and voicing. But when placed opposite one of the mightiest Polish Jazz rhythm sections Halat is pulled into the Jazz idiom, seemingly almost against his will. His improvisation is also atypical and stays relatively close to the core themes, which after a while gets a bit too uniform.

The musical themes are generally simple, folkloristic little ditties, not really fully developed melodies, which are fine as starting points for the mostly improvised pieces, but hardly able to stand on their own. Nevertheless the music flows smoothly and is able to sound coherent mostly thanks to the incredible swinging feel of the rhythm section. Time after time the listener is faced with the dilemma if he is listening to a Jazz recording or a contemporary Classical piece, all relative to the measure of involvement of the rhythm section.

There is a lot of freedom and space in this music, which characterizes both modern Jazz and Classical idioms. This allows a lot of different forms of dialogue and trialogue conversations within this music, which becomes the most interesting ingredient of the music, especially when it becomes completely improvised as in the five collective pieces.

It seems that Halat was extremely lucky in finding these two partners to record his debut Jazz offering, which probably would have not been possible otherwise. Garbowski and Gradziuk, who have consistently moved towards more open / improvised music in the last few years, prove here that they are able to carry on a full album just on their own, and their contribution here is simply invaluable.

As to Halat being the next "thing" on the Polish Jazz violin scene, IŽd definitely need to hear more and give it some time. This is a very unusual, surprising and even promising album, but it does suffer from some inhibitions which need to be resolved, before Halat earns his honorable place on the pedestal.

Overall this is definitely music that should be investigated and even embraced, as it does offer a novel approach and a lot of courage. Highly recommended!
---