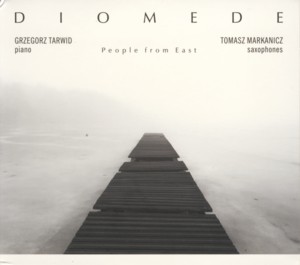 DIOMEDE ~ PEOPLE FROM THE EAST
SJ 025 (Barcode: 5912596066276) ~ POLAND ~ Jazz-Classical Fusion
Recorded: 2017
Released: 2017
---
This is the debut album by Polish Jazz duo Diomede

Find albums by this artist

comprising of pianist Grzegorz Tarwid

Find albums by this artist

and saxophonist Tomasz Markanicz

Find albums by this artist

. The album presents nine original compositions, which are not credited on the artwork and therefore are assumed to be co-composed by both members of the duo.

The music is a surprising collection of highly melodic tunes, mostly melancholic and introvert, performed by the duo with certain amount of pathos and theatrical drama, overall quite effective and aesthetically pleasing, but definitely only partly involved with the Jazz idiom. There are elements of Classical Music and folkloristic influences, New Age emotionalism and of course improvisations, all amalgamated into a unique musical blend, which is very communicative and enjoyable to a potentially wide audiences.

Both players perform very well, but Tarwid offers a much more diverse palette of sounds and techniques, whereas Markanicz sticks to pretty straightforward saxophone parts, which state the melodic themes and then improvise quite closely to the core melody lines, utilizing dynamics, intensity and wall of sound effects.

The most important asset of this music is its "strangeness" and unconventional approach to music making, which is always welcome, even if the purely musical value of the music is not entirely apparent. These musicians are clearly searching for a new path and the process of searching is the essence of this music. This music is perhaps more appropriate for cinema / theater or other applications than for conventional listening, but regardless of the way it is heard, it has its merits. Recommended for more adventurous listeners, who like taking chances!
---