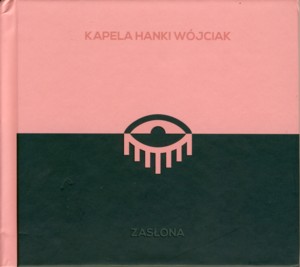 KAPELA HANKI WOJCIAK ~ ZASLONA
LAS 31001 (Barcode: 5907222901007) ~ POLAND ~ Folk-Rock
Recorded: 2017
Released: 2017
---
This is the long awaited second album by the Polish ensemble Kapela Hanki Wojciak

Find albums by this artist

, led by singer / songwriter Hanka Wojciak

Find albums by this artist

and also including (in alphabetical order like on album´s artwork) drummer Tomasz Czaderski

Find albums by this artist

, guitarist Jacek Dlugosz

Find albums by this artist

, bassist Mateusz Frankiewicz

Find albums by this artist

, violinist Tomasz Pawlak

Find albums by this artist

and mandola player Andrzej Zagajewski

Find albums by this artist

. Three guest musicians participate on selected tracks. The album presents eleven songs, ten of which feature lyrics written by Wojciak and music composed by Wojciak or co-composed by her with the rest of the ensemble. The eleventh song is by Zakopane (the capital of the Polish Highlanders from where Wojciak also originates) native songwriter Beata Skulska-Papp

Find albums by this artist

. The album was beautifully recorded by Dariusz Grela

Find albums by this artist

and is lavishly packaged in a wonderfully designed digibook. There are also a couple of bonus tracks, which are downloadable from the record label´s site.

Musically the album is a coherent and consistent continuation of the path beautifully initiated by the debut album. It is somewhat more mature and diverse, adding new areas like Gypsy Jazz, cabaret and chanson, to the already wide scope of the debut, which was strongly influenced by Polish Highlanders Folklore and other folkloristic motifs. But the heartbreaking musical simplicity and directness of the wonderful melodies are again the major strengths of this music. These songs are all true gems, which encrusted in the superbly sophisticated and delicate arrangements shine like distant stars in a bright night sky.

The music is all acoustic, and often minimalistic, which makes for every bit of sound count. The instrumentalist all perform with obvious talent and dedication, minimizing their statements to short but excellent solos and fully supportive accompaniment of the vocals. There is absolutely nothing unnecessary on this album, not one spare note or bit of sound. Everything works together perfectly, saying rather less than more, leaving it to the listener to connect the dots.

Wojciak has an angelic voice, sweeter than honey and sublimely expressive, albeit the controlled "simplicity". Her theatrical delivery of the lyrics is simply astounding and throughout the album she is able to move between such contrasting moods like deep melancholy and humoristic sarcasm. The lyrics are, yet again, intelligent, meaningful and skillfully weaved, using the Polish language at its full capacity.

In a musical world, where everything is sampled, synthesized, overlaid by layers of computer generated effects, condensed and compressed, twisted and turned around, boosted and filtered, listening to this album is like biting a strawberry for the first time this year and letting an abundance of sweetness and other flavors to take gradually control of your mouth and then your mind.

This album and the music it presents are light-years apart form almost everything that is happening of the Polish music scene, which is sadly as bad as everything that is happening in Europe or the rest of the world. It is untouched by the rotting non-culture that seems to rule our world, and Thank God somebody is still making real music these days. Bless you Haniu and your Kapela for making the world a little more bearable!
---