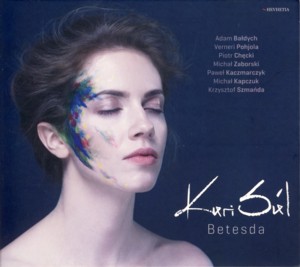 KARI SAL ~ BETESDA
HEVHETIA 0153 (Barcode: 8588005258135) ~ POLAND ~ Jazz-Pop Fusion
Recorded: 2015
- 2016
Released: 2017
---
This is the debut album by Polish singer / songwriter Kari Sal

Find albums by this artist

, recorded with a dream-team backup group consisting of top Polish Jazz musicians: violinist Adam Baldych

Find albums by this artist

(Sal´s husband), violist Michal Zaborski

Find albums by this artist

, saxophonist Piotr Checki

Find albums by this artist

, pianist Pawel Kaczmarczyk

Find albums by this artist

, bassist Michal Kapczuk

Find albums by this artist

and drummer Krzysztof Szmanda

Find albums by this artist

. Finnish trumpeter Verneri Pohjola

Find albums by this artist

also guests on several tracks. The album presents seven original songs, five of which were composed by Sal, one was co-composed by Sal and Baldych and one was co-composed by Sal, Baldych and Kaczmarczyk. Sal wrote the lyrics to five of the songs and two songs have lyrics based on Biblical texts. There is also one track featuring wordless vocalese with music by Baldych.

The music is a mixture of many diverse influences, which include Polish Folklore roots, Scandinavian Alternative Pop and others; altogether close in spirit to the Polish sung poetry idiom. The arrangements add a distinct Jazzy flavor, but the music is not rooted in Jazz per se. Sal´s songwriting is full of typical Polish lyricism and melancholy, both on the musical and textual planes. Influenced by her visit to Island, the music also encompasses the Nordic characteristics, which are not that far away from the Slavic sources, which perhaps explains why Polish and Scandinavian musicians feel so much affinity towards each other. The biblical sources and Sal´s own lyrics reflect deeply religious / spiritual involvement, which is rarely present in contemporary Art. Sal´s compositions are all remarkably mature, harmonically coherent, stylistically consistent and aesthetically rounded, which of course deserves praise and admiration.

As expected, the performances by all the instrumentalist present on this album are nothing short of stellar. There are numerous exquisite solos and the accompaniment by the basic violin / piano / rhythm section quartet is superbly and consistently executed. But of course the vocal parts by Sal are the focus of this album. She has a wonderfully clear, steady and colorful voice, which she uses wisely and cleverly. Both her lyrics and vocalese parts are moving and fascinating, and although she demonstrates self-confidence and clear musical vision, she is not over-confident and respectfully cooperates with the band members. The decision to sing in Polish is also extremely important and it´s encouraging to see that some Polish vocalists are free of the "singing in English" complex, which is a plague and keeps Polish vocalists in many cases back from achieving its full potential.

Overall this is a beautiful and most impressive debut album, which proves that determination and talent conquer all. Obviously Sal received a lot of support and help from the musicians playing on this album, but it is first and foremost her own achievement, both as a songwriter and performer and she deserves every bit of our gratitude for creating this sensitive, intelligent music. I already can´t wait for the next album… Thank you, Milady!
---