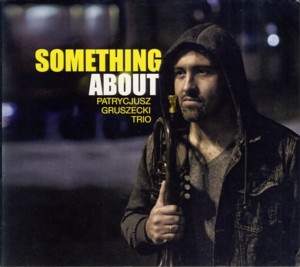 PATRYCJUSZ GRUSZECKI ~ SOMETHING ABOUT
BCD 42 (Barcode: 5906881885420) ~ POLAND ~ Jazz
Recorded: 2016
Released: 2017
---
This is the debut album by Polish Jazz trumpeter / composer Patrycjusz Gruszecki

Find albums by this artist

, recorded in a trio format with organist Kajetan Galas

Find albums by this artist

and drummer Zbigniew Lewandowski

Find albums by this artist

. The album presents twelve original compositions, all by Gruszecki. The album was recorded at the RecPublica Studios and was engineered by Lukasz Olejarczyk

Find albums by this artist

, with the usual superb sonic quality.

The music is well behaved mainstream Jazz, with solid compositions and great Swing / Groove feel, which sways the listener´s body involuntarily from start to finish. The compositions are well structured, with the ballads being my personal favorites, but they present a consistent and well weaved musical fabric. The unusual and minimalistic lineup of trumpet / organ / drums works out perfectly and misses nothing in order to sound round and complete.

All three musicians play splendidly, as expected from Polish Jazz musicians. Personally the Hammond Organ always steals the show for me, as it has been my favorite instrument for over fifty years, but credit is due to the trio for their work as a unit, combining their personal strengths. Gruszecki has a beautiful round sound on trumpet and flugelhorn, but his improvisations are a bit withdrawn and "controlled" at times, which suits this specific recording well, but leaves the listener a bit hungry for more. Galas is superbly melodic and offers great improvised parts with his work being irreproachable all the way through. This is the third album I reviewed, which features his organ work, and he is always perfectly right on the money. Lewandowski also plays excellently, being solely responsible for the rhythmic pulsations of this music (supported by the organ´s bass pedals). His percussive feel is truly exquisite, precise and outward virtuosic – something to learn from.

Overall this is a splendid debut album, catering to the listeners on the lighter side of the Jazz spectrum, but still excellent in every way, with an atypical lineup and sound, which is fresh and very effective. Wholeheartedly recommended!
---