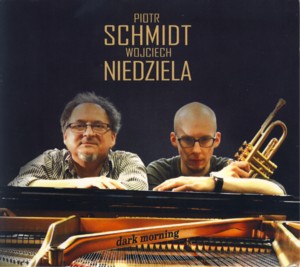 PIOTR SCHMIDT / WOJCIECH NIEDZIELA ~ DARK MORNING
SJ 024 (Barcode: 5912596066269) ~ POLAND ~ Jazz
Recorded: 2017
Released: 2017
---
This is the debut album by the Polish Jazz duo comprising of trumpeter / composer Piotr Schmidt

Find albums by this artist

and pianist / composer Wojciech Niedziela

Find albums by this artist

. The album presents twelve original compositions, nine by Niedziela, two by Schmidt and one co-composed by them both.

Separated by a generation gap (Schmidt born 1985 and Niedziela born 1961), they share not only their Silesian roots, but first and foremost their deep love of Jazz music. This quite unexpected duo brings Schmidt back to his Jazz roots, which he partially abandoned lately in favor of more electric endeavors, but proves that he is definitely able to play almost completely traditionally.

The music is deeply rooted in the Polish Jazz idiom, with melancholic and lyrical themes, delicately and subtly performed in perfect harmony and concord by these two superb musicians. They manage to create a full musical experience, which perfectly holds water, emphasizing the beauty and sincerity of the musical contents.

The age and stylistic differences out the window, they simply perform as one symbiotic entity, complementing each other wonderfully. Schmidt´s acoustic trumpet sound is refreshing and he wisely does not avoid committing small "imperfections", which add a charm to the proceedings and testify as to its spontaneity and authenticity. Niedziela, in charge of the harmonic background and musical flow, is beautifully minimalistic and avoids being overbearing. The music is perfectly balanced between the two instruments and is a pure pleasure to listen to from start to finish.

Overall this is a quiet, contemplative album, which in spite of its apparent minimalism is full of wonderful music, which is performed with elegance and deeply aesthetic devotion. For lovers of melodic mainstream Jazz, which is able to make the listener think out of the box, this album is an absolute must. Lush, velvety and sensuous, this is a small gem of an album, which happens only once in a blue moon. Wholeheartedly recommended!
---