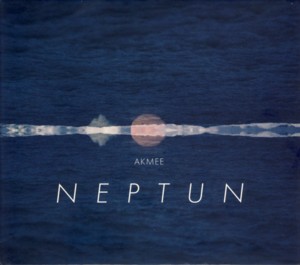 AKMEE ~ NEPTUN
NAKAMA 011 (Barcode: 7090040260208) ~ NORWAY ~ Free Jazz / Improvised Music
Recorded: 2016
Released: 2017
---
This is the debut album by the Norwegian quartet Akmee

Find albums by this artist

, which comprises of trumpeter Erik Kimestad Pedersen

Find albums by this artist

, pianist Kjetil Jerve

Find albums by this artist

, bassist Erlend Olderskog Albertsen

Find albums by this artist

and drummer Andreas Wildhagen

Find albums by this artist

. The album presents four lengthy pieces, two composed by Jerve and one each by Albertsen and Wildhagen.

The music floats between composed themes and freely improvised passages, developing slowly and allowing all the members of the quartet to express their ideas and exchange ideas with others, always respectfully and gracefully. As usual in these circumstances there are several fracture groups within the quartet, like trumpet / rhythm section or piano / rhythm section trios, in addition to the full quartet performances of course.

The individual performances by all four members of the quartet are very impressive and interesting. There is an obvious effort to search for new ways of expression and even new sonic possibilities on their respective instruments. There is nothing expected here and every new sound opens new possibilities for the quartet to follow suit. Pedersen soars on his trumpet, Jerve is cool like northern ice, Albertsen is steady like a rock and keeps the proceedings in check and Wildhagen wonderfully ornaments the music which his highly unconventional percussive approach. Of course, as expected, the music has ingredients of the typical Norwegian school, but is not overall stylistically lethargic, mixing fire and ice exactly at the right proportions.

Personally the work of Jerve is the most fascinating to me, but to be fair all four young musicians are examples of the superb new European Jazz generation, which contributes to the Renaissance of the genre.

The album is relatively concise and lasts only slightly above the half an hour mark, but considering the intensity and complexity of the music perhaps this is a wise decision, delivering just the right amount of music which a listener is able to sit through before getting distracted. The album is another excellent release on the young independent Norwegian label Nakama

Find albums on this label

Records, which consistently manages to put out superbly challenging contemporary European Jazz. Well done!
---