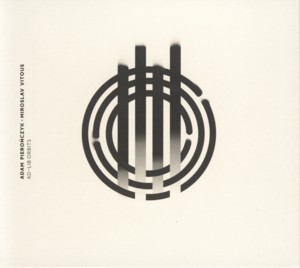 ADAM PIERONCZYK & MIROSLAV VITOUS ~ AD-LIB ORBITS
PAO 11320 (Barcode: 9006834113207) ~ POLAND ~ Jazz
Recorded: 2016
Released: 2017
---
This is the second album by the duo comprising of two veteran Jazz Masters: Polish saxophonist / composer Adam Pieronczyk

Find albums by this artist

and Czech bassist / composer Miroslav Vitous

Find albums by this artist

. The album presents sixteen relatively short spontaneous improvisations, fourteen of which are credited to both musicians and one each is credited to Pieronczyk or Vitous, being solo pieces.

This album, being a second encounter, misses the element of surprise the duo managed to create first time around, but in every other respect it is a superb example of the "Art of the Duo" idiom, which in Jazz has a very long tradition.

Despite the fact that all the music is spontaneously improvised, it is remarkably accessible to a larger Jazz loving audience beyond the miniscule circle of enthusiasts of Free Jazz or Improvised Music. Of course the question if conventional Jazz fans will have the stamina and open-mindedness to relax and enjoy these musical explorations is always relevant.

The music is mostly low key and slow tempo, which makes it very meditative and demanding. Both players are of course beyond any need to show their chops and concentrate on the dialogue that develops between them. Listeners who like such musical environment will of course enjoy the music immensely, exploring the exchanges and dialogues developed in the process.

In short this is a successful follow up album to the duo´s debut recorded a year earlier, much in the same aural and conceptual vein. Listeners who enjoyed the debut should definitely grab this one as well; those who did not have the opportunity to listen to the debut album could start from this one and then get the debut. Either way works well!
---