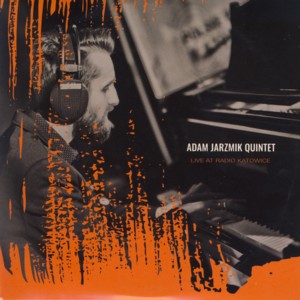 ADAM JARZMIK ~ LIVE AT RADIO KATOWICE
PRK 0135 ~ POLAND ~ Jazz
Recorded: 2017
Released: 2017
---
This is the second album by young Polish Jazz pianist / composer Adam Jarzmik

Find albums by this artist

, recorded with the same quintet as his debut album released just a few months earlier, this time recorded "live in the studio". The quintet includes trumpeter Pawel Palcowski

Find albums by this artist

, saxophonist Jakub Lepa

Find albums by this artist

, bassist Maciej Kitajewski

Find albums by this artist

and drummer Piotr Budniak

Find albums by this artist

. Guitarist Jakub Mizeracki

Find albums by this artist

guests on one track. The album presents five original compositions, all by Jarzmik, all different from the compositions featured on the debut album, which proves that Jarzmik is a very prolific composer. Considering the rather short playing time of the album (about thirty five minutes) this is rather an EP than a full album.

The music is kept within the contemporary mainstream Jazz, but the compositions on this album are more ambitious and focused than those on the debut, which means that the music flows flawlessly from one track to another, serving as a vehicle for the individual improvised parts. The ensemble sound is very well defined and kept in check, with the saxophone and trumpet stating the melodic themes unisono, before the music is "released" to the soloists to state their parts.

The individual performances are all perfectly executed, considering the fact that this is a live recording and the young age of the musicians involved, and are a faithful testimony of the overall high level of the young Polish Jazz musicians. The track which features the guitar takes off in a slightly different direction, emphasizing the Fusion approach, which might be interesting for future ventures by Jarzmik.

Overall a solid effort, with great music and excellent playing, which should keep most mainstream Jazz fans happy. The album offers nothing groundbreaking or extraordinary, but is definitely worth checking out.
---