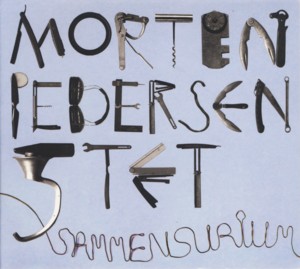 MORTEN PEDERSEN ~ SAMMENSURIUM
BAREFOOT 051 (Barcode: 5707471049556) ~ DENMARK ~ Free Jazz / Improvised Music
Recorded: 2016
Released: 2017
---
This is the debut album by Danish pianist / composer Morten Pedersen

Find albums by this artist

, recorded with his quintet which also includes Polish trumpeter Tomasz Dabrowski

Find albums by this artist

, Italian saxophonist / clarinetist Francesco Bigoni

Find albums by this artist

, Swedish bassist Johannes Nastesjo

Find albums by this artist

and Norwegian drummer Hakon Berre

Find albums by this artist

. The album presents eight original compositions, all by Pedersen.

The music is a superb example of modern European Jazz, which is still based on composed themes but the improvisations venture often into Free Jazz. The compositions are very solid and the brief unisono introductions played by the saxophone and trumpet expand later into group improvisations. The music is interesting and diverse enough to keep the listener interested throughout. The movement out of the melodic theme and back again, several times during the same piece, is also fascinating. The overall level of composition is simply stunning and the characteristic lyricism and melancholy add a magical atmosphere, which is thrilling.

The individual performances are all top notch, with the participants creating ad-lib duets (trumpet / saxophone) and trios (trumpet / saxophone / piano) within the quintet framework, which emphasizes the level of cooperation and mutual respect between the musicians. The concept which allows the rhythm section not to be present at all times is very refreshing and in this case also extremely effective aesthetically. Not that the rhythm section is not performing well, God forbid, since it definitely is, but the minimalism of the duo / trio is an Art form in itself. Dabrowski is brilliant, as usual, with the incredible kaleidoscope of sounds he is able to produce on his trumpet. Bigoni sounds equally proficient on the saxophone and on the clarinet, the latter being my personal favorite. Pederson plays a round, deeply melodic piano parts, which in spite of their free form sound still very harmonious. The rhythm section, as already mentioned above, does a great job, but is present only partially, which is highly unusual and makes this album so unique.

This album is a classic example of contemporary European Jazz scene, where multinational ensembles are omnipresent and national borders are completely irrelevant any more. These young musicians are spiritually united by the European aesthetics and common cultural background, which goes back centuries. The Copenhagen scene is one of the most fruitful and fascinating Jazz centers at the moment, where young musician from all over Europe gather to study and create music together. The album was released on the wonderful Copenhagen based Barefoot Records label, which is a musicians´ cooperative creating an independent platform for them to release their own music, and which in the last decade managed to put out some of the most significant contemporary Jazz albums.

This is a stunning debut effort and a true treasure chest of contemporary European Jazz, which is a beacon of what Europe, has to offer! Chapeau!
---