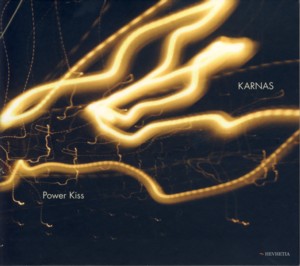 GRZEGORZ KARNAS ~ POWER KISS
HEVHETIA 0150/0151 (Barcode: 8588005258111) ~ POLAND ~ Jazz
Recorded: 2016
Released: 2017
---
This is the seventh album by Polish Jazz vocalist Grzegorz Karnas

Find albums by this artist

, this time recorded live during his 2016 concerts in China. The enclosed CD presents ten tracks, five of which are original compositions / improvisations by Karnas, one song (repeated twice) is by Joni Mitchell

Find albums by this artist

, another song (also repeated twice) is by Laurie Anderson

Find albums by this artist

and one is a Michal Tokaj

Find albums by this artist

composition. Karnas is accompanied by a piano trio, which consists of Azerbaijani pianist Elchin Shirinov

Find albums by this artist

and Polish bassist Alan Wykpisz

Find albums by this artist

and drummer Grzegorz Maslowski

Find albums by this artist

. The enclosed DVD presents mostly the same material included on the CD with a couple of alternate takes.

Karnas is of course the most unique Polish Jazz vocalist and his music presents a completely individual approach, which is basically incomparable with anything else in the vocal department, not only in Poland but in the whole world for that matter. He hardly ever uses words (lyrics) and most of what he utters is virtuosic vocalese unrelated to any "real" language (although here he seems to make an effort to communicate with his audiences in Chinese). His inventive use of his vocal cords and his unearthly timbre, combined with superb instrumental work by his band members always create epic results, which are beyond what one might expect within the vocal Jazz idiom.

It is absolutely amazing what these four musicians are able to achieve on stage, live and "naked". Karnas chose some of the absolutely best young musicians on the European scene, with the brilliant Shirinov creating all the melodic / harmonic background (and soloing spectacularly) and the rhythm section simply carrying the music all along on a rock-steady foundation and with exquisite inventiveness.

Overall this is a stunning piece of music, which deserves to be taught in music schools not only for its musical qualities, but primarily for the freedom of creation it symbolizes like only very few other recordings do. Every true music connoisseur should find this album enchanting, even if not immediately likeable. Music of such quality requires total involvement, nothing less.

It is great to see Karnas still able to move mountains, especially in view of his relatively sparse release schedule lately. All his albums deserve an honorable place in any serious Polish / European Jazz collection, and they are all a chronicle of an Artist, who does not rest for one moment, constantly searching for new territory and new forms of expression; a rare and precious quality for which he deserves all praise.

Thank you for the gift of music!
---