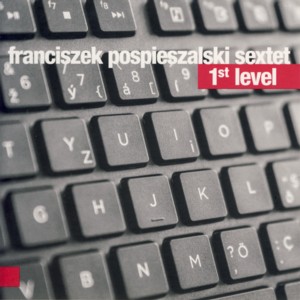 FRANCISZEK POSPIESZALSKI ~ 1ST LEVEL
FOR TUNE 0123 (Barcode: 5906395808250) ~ POLAND ~ Avant-Garde Jazz
Recorded: 2016
Released: 2017
---
This is the debut album by young Polish Jazz bassist / composer Franciszek Pospieszalski

Find albums by this artist

, recorded in a sextet setting with his fellow Polish students at Copenhagen´s Rhythmic Music Conservatory, which is very popular among the young generation of Polish Jazz musicians in the last decade. The other members of the sextet are: saxophonists Kuba Wiecek

Find albums by this artist

and Jedrzej Lagodzinski

Find albums by this artist

, pianist Grzegorz Tarwid

Find albums by this artist

and drummers Szymon Gasiorek

Find albums by this artist

(who also plays electronic vibraphone) and Albert Karch

Find albums by this artist

. Trumpeter Szczepan Pospieszalski

Find albums by this artist

plays on one tune. The album presents seven original compositions, all by Pospieszalski, and one arrangement of a Classical piece.

The music, which is absolutely beyond any known systematic classification, moves constantly between modern Jazz, group improvisation, contemporary Classical and a myriad of other not yet invented labels, and is utterly stunning in its inventiveness and complete disregard of stylistic or mental limitations. It is an extension to what the Love And Beauty Seekers

Find albums by this artist

trio (Pospieszalski / Lagodzinski / Gasiorek) brilliantly started on their debut album a year earlier, with the additional power and possibilities intrinsic to the larger sextet lineup. In short this is perhaps a beginning of a new Jazz genre, which appears here for the first time, and which is new and separate from anything else known in the past.

It is mindboggling to hear what these young people manage to achieve here, which is more revolutionary and prophetic that what most Jazz musicians achieved in their lifetimes. As hard as it is to believe, this music is a quintessential expression of the Jazz exploration and development, which is the genre´s most important quality, especially in view of the fact that most other musical forms are simply dying or exist in a state of deep lethargy. Listening to this music reveals perhaps the last threads of hope for human Culture, which is still alive and kicking.

Although the album is extremely short (just over thirty six minutes in duration), it is so extremely condensed and full of intellectual charge, that its unadulterated contents means more that dozens of other albums put together. As a result it stays apart from most other albums released in Poland this year, and is by far the most interesting release so far in 2017. It will perhaps take time for the listeners to fully understand the meaning and significance of this music, but the musical prophecy conveyed herein is bound to create a major impact. My deepest thanks go to these young Lions for keeping my faith in humanity afloat.
---