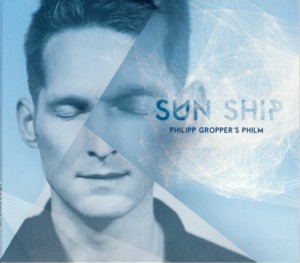 PHILIPP GROPPER / PHILM ~ SUN SHIP
WHYPLAYJAZZ 038 (Barcode: 4250459991381) ~ GERMANY ~ Avant-Garde Jazz
Recorded: 2016
Released: 2017
---
This is the third album by German saxophonist / composer Philipp Gropper

Find albums by this artist

and his quartet Philm

Find albums by this artist

, which also includes Austrian keyboardists Elias Stemeseder

Find albums by this artist

, Danish bassist Andreas Lang

Find albums by this artist

and German drummer Oliver Steidle

Find albums by this artist

. The album presents three original compositions, the first comprising of two parts and the second and third comprising of three parts each.

This time, in contrasts to the quartet´s previous album, the music, although obviously still very much Avant Garde and Free Jazz oriented, manages to present a coherent approach and less self-indulgence, which result in a more communicative whole. Of course this is still highly specialized music, which a priori is intended for a very narrow audience, but the correct balance of Freedom and Discipline makes it all happen this time.

All four members of the quartet are obviously highly talented musicians, which is apparent outright. The individual statements as well as the collective interplays are all outstanding, with each musician being allowed enough space to show his chops. The synthesizer is a nice innovation to the quartet´s overall sound and expands the scope of possibilities and adds a fresh sound layer to the overall sound, all for the best.

Personally I enjoy the ragged, odd and unexpected rhythmic aspect of the music on this album, which is truly fascinating and quite innovative. The ability of the musicians to keep the time together is obviously remarkable and the hats off goes to the superb rhythm section of Land and Steidle, which is simply brilliant. But of course Gropper and Stemeseder create many wonderful statements all along, which are true delight to an attentive listener.

Overall this is a beautiful example of European Free Jazz at its best, with shows the renewed German Jazz scene, especially in Berlin but also in other parts of the country, revitalized by the tremendous young generation of players and open to international cooperation, like it once was in the golden 1960s and 1970s. What a joy!
---