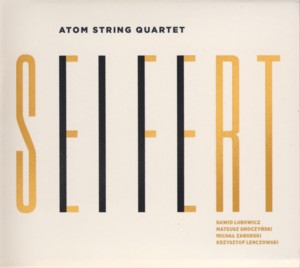 ATOM STRING QUARTET ~ SEIFERT
ZBIGNIEW SEIFERT FOUNDATION 1 (Barcode: 5907222048009) ~ POLAND ~ Jazz
Recorded: 2017
Released: 2017
---
This is the fourth album by the prominent Polish string quartet called Atom String Quartet

Find albums by this artist

, which comprises of violinists Dawid Lubowicz

Find albums by this artist

and Mateusz Smoczynski

Find albums by this artist

, violist Michal Zaborski

Find albums by this artist

and cellist Krzysztof Lenczowski

Find albums by this artist

. As the title suggests, this is a tribute to the iconic Polish Jazz violinist / composer Zbigniew Seifert

Find albums by this artist

, presenting ten of Seifert´s original compositions and one composition by Lubowicz, inspired by a Seifert composition. Of the eleven pieces on the album, eight are performed by the entire string quartet, one is a duo performance by Zaborski and Lenczowski and two are solo violin performances, one each by Smoczynski and Lubowicz.

The Polish Jazz violin school is experiencing a tremendous renaissance in the last decade or so, with renewed interest in the violin as a Jazz instrument and numerous young players popping out like mushrooms after the rain, all in a frenzy of recording and concert activity. The biennial International Zbigniew Seifert Jazz Violin Competition also adds to the overall effect. The life and career of Seifert, tragically cut short by illness, is an important founding stone of modern Polish / European Jazz, and the admiration of his music is fully justified not only by its legendary status, but most importantly by its superb musical depth.

For someone familiar with Seifert´s music, like me, the string quartet arrangements of his music sound somewhat eccentric, at least at the first encounter. Hearing this music without its rhythmic layer, which was always very important in Seifert´s case, takes time to get used to and requires patience and open mindedness. The intricate aspects of the music and its aesthetic idiosyncrasies are far from being trivial and in their transformed appearance are even more elusive and multifaceted. In short the quartet´s interpretation of Seifert´s music is definitely challenging and less immediately striking than the original, which obviously enhances the entire experience of listening to this album.

As expected, the music is executed with the outmost care and sheer virtuosity, which easily explains the revered status of the quartet. Both individually and as an ensemble, Atom String Quartet are simply magnificent from start to finish. This album, in view of its challenges and rigorous outline, proves to be the quartet´s best recording to date as far as I am concerned. The limitations created by the repertoire turned out to be an asset and the quartet emerges victorious from the obvious challenge.

Overall this is a magnificent album, which deserves repeated listening and can definitely be considered as a commendable tribute to Seifert´s music and his legendary legacy, full of love and respect beautifully combined. Hats off gentlemen!
---