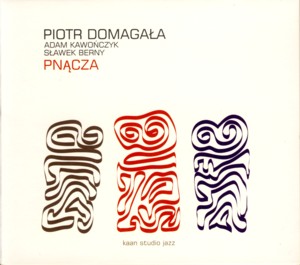 PIOTR DOMAGALA ~ PNACZA
KAAN 003 (Barcode: 5908259907031) ~ POLAND ~ Jazz-World Fusion
Recorded: 2012
Released: 2013
---
This is the third album by Polish guitarist / composer Piotr Domagala

Find albums by this artist

, recorded in an intimate trio format with trumpeter / flautist Adam Kawonczyk

Find albums by this artist

and percussionist Slawomir Berny

Find albums by this artist

. The same lineup recorded also Domagala´s previous album called "Slavonic Tales

Find albums with this title

". The album presents nine original compositions, all by Domagala.

The music is a wide amalgam of influences, including World Music form Far and Near East and Domagala´s domestic Polish Folklore, obviously Jazz but also some Classical Music hints, in short a cross-genre offering, which sounds absolutely brilliant from start to finish. The music is serene and relaxed, based on exquisite melodies, which serve as a basis for extensive improvisations and elaborate expansions. Even the up-tempo numbers sound perfectly peaceful and focused.

The guitar is of course at the center of the listener´s attention, often multi-tracked to achieve a richer and more spacey sound, but the trumpet / flute and the superb percussion work all add up to make this album an unforgettable experience. In addition the music is beautifully recorded, with excellent detail and separation, which allows every singe note and tone to be perfectly audible.

Domagala´s guitar playing is nothing short of virtuosic and his technique allows him to express the depth of his aesthetics and the beauty of his compositions. When talent, experience and dedication come together, like on this album, the result is simply overwhelming and the minimalism of this music works in its favor, creating a superb result in which every single note counts.

Overall this is an album of rare beauty, which every guitar connoisseur on this planet should absolutely fall in love with. Although recorded a few years before it arrived on my desk (courtesy of the creator) it is definitely way too good to be ignored and I hope some people will discover this gem now; better late than never. An absolute must!
---