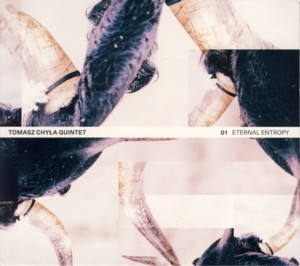 TOMASZ CHYLA ~ ETERNAL ENTROPY
POLSKIE RADIO 2033 (Barcode: 5907812241988) ~ POLAND ~ Jazz
Recorded: 2017
Released: 2017
---
This is the debut album by Polish Jazz violinist / composer Tomasz Chyla

Find albums by this artist

, recorded in a quintet setting with saxophonist Piotr Checki

Find albums by this artist

, keyboardist Szymon Burnos

Find albums by this artist

, bassist Krzysztof Slomkowski

Find albums by this artist

and drummer Slawomir Koryzno

Find albums by this artist

. These four players are also members of the quintet called Algorhythm

Find albums by this artist

. The album presents nine original compositions, three of which were composed by Chyla, three were co-composed by him and other members of the quintet, one was co-composed by him and his teacher at the Gdansk Music Academy Witoslawa Frankowska

Find albums by this artist

and two were composed by Slomkowski.

The music is mostly modern mainstream Jazz, but allows a lot of freedom to the quintet members to spread their wings. The melodic themes are very solid, mostly lyrical, with strong ties to Polish Folklore and typical Polish melancholy, felt even on the up-tempo numbers. The level of the compositions is surprisingly mature and coherent for such young musicians / composers, and again emphasizes the incredible strength of the young Polish Jazz scene. All three soloists play some amazing solo parts on this album and the rhythm section manages to support them amicably all the way through. Slomkowski deserves special mention as his bass pulsations are a stronghold of stability on which this entire music rests. Koryzno also plays exceptionally well, proving that drumming can be creative and atypical and at the same time fulfill the role assigned to the instrument.

All five musicians are superb instrumentalists and they perform the music with passion and obvious mixture of talent and professionalism. Chyla has a surprisingly original tone and stylistic approach, quite different form other violinists active on the Polish violin scene. His playing is much closer to Polish Folklore than to classical music, which is usually the starting point for violinists and he is more open to less constrained improvisation, which at time borders with Free. He is definitely the most interesting new arrival on the crowded Polish Jazz violin scene, and a most welcome one due to his divergence.

Overall this is an outstanding debut offer, one of the strongest on the Polish Jazz scene so far this year. The creativity and inventiveness of these young musicians simply never ceases to amaze. Hats off!
---