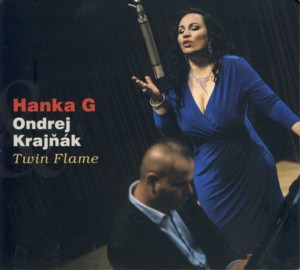 HANKA GREGUSOVA / ONDREJ KRAJNAK ~ TWIN FLAME
PRIVATE EDITION (Barcode: 8588006797015) ~ SLOVAKIA ~ Jazz
Recorded: 2016
Released: 2017
---
This is the third album by Slovak vocalist Hanka Gregusova

Find albums by this artist

(a.k.a. Hanka G

Find albums by this artist

), recorded in an intimate duo setting with pianist Ondrej Krajnak

Find albums by this artist

, who also arranged the music. It presents eight songs, six of which are classic Jazz standards, one is a composition by Slovak composer Ernest Olah

Find albums by this artist

and one is an original composition by Krajnak. Gregusova wrote original lyrics in English to three of the standards (which are originally instrumentals) and to the Olah and Krajnak compositions.

The album, recorded following her move to NY, finds Gregusova returning to her Gospel / Blues / Jazz roots, away from the direction of her previous album, which was dedicated to Slovak Folklore. The intimate vocals / piano setting inspires a unique atmosphere of a smoke filled Jazz club sometime in the 1950s, where a vocalist delivers her heartbreaking vocals to mesmerized listeners holding a glass of whiskey in their hands. The piano provides a wonderful accompaniment to her vocals, somewhat back in the background, carefully trying not to veil the velvety vocals.

Most of the songs are very low key, slow tempo ballads, which of course are the most difficult to be performed by a vocalist. Gregusova shows no signs of hesitation or shyness and moves through the material with ease and elegance. Amicably supported by Krajnak, who plays a few wonderfully lyrical solos, the vocalist delivers her sensuous phrases with theatrical dramatics and highly musical approach.

Although English is not Gregusova´s mother tongue, her delivery of the English lyrics is completely acceptable, in contrast to the attempts by other Eastern European vocalist, who usually fail pathetically in this department.

Overall this is a wonderful intimate vocal album, which is best listened to with a glass of wine in one´s hand and a dimmed room, which is the next best thing to hearing Gregusova live. The album offers excellent music beautifully performed, which is simply everything one can ask for. A must for Jazz vocals connoisseurs!
---