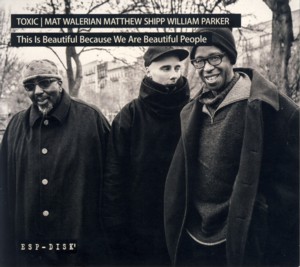 TOXIC: MAT WALERIAN / MATTHEW SHIPP / WILLIAM PARKER ~ THIS IS BEAUTIFUL BECAUSE WE ARE BEAUTIFUL PEOPLE
ESP 5011 (Barcode: 825481501125) ~ POLAND ~ Free Jazz / Improvised Music
Recorded: 2015
Released: 2017
---
This is the third album by Polish (resident in NY) Jazz multi-instrumentalist / composer Mat Walerian

Find albums by this artist

, released by the reanimated legendary NY ESP

Find albums on this label

label. As on both previous recordings, he is in the great company of pianist / composer Matthew Shipp

Find albums by this artist

and for the first time also the legendary Avant-Garde bassist William Parker

Find albums by this artist

. The trio chose the Toxic

Find albums by this artist

moniker for this album, which presents five original compositions, two by Walerian, two co-composed by all three trio members and one co-composed by Walerian and Parker.

Walerian seems to have found a niche on the NY Avant-Garde scene, where he is respected by fellow American musicians, who take part in his projects. His obvious talents and diverse musical facets, which Walerian presents while playing an array of instruments, allow him to create minimalistic introvert music, which is rich in its sound palette and emotional scale, like very few other contemporary Avant-Garde projects. Whether he plays flute, clarinets or saxophone, Walerian is always beautifully focused and intrinsically melodic, which enables him to develop a very tight interaction with his listeners, being completely nonaggressive and always profoundly focused.

From the first notes on this album, which starts with a flute / shakuhachi (played by Parker) duet, the meditative nature of the music is set forward, and although later on it does become more expressive and emotional, it stays within the same frame of mind. The album features a constantly changing lineup of solo, duo and trio parts, which follow each other naturally as the music develops. Although the music does not follow concrete melody lines as such, the improvisations are full of melody fragments, spontaneously created on the fly.

The level of interplay between the trio members is phenomenal and they often function like one body / one mind in spite of their individual personalities. All three musicians get plenty of opportunity to solo extensively, but it is the communal effort, which is truly the focus of this music. Walerian plays fluently, as always, with great technical skill on all the instruments, but more importantly he is able to create a constant musical plane, which is then stretched and supported by his cohorts.

This is Improvised Music at its best, which can be listened to time and time again, every time with new discoveries at hand. I have actually listened to this music three times in a row, each time concentrating my attention on one player, and only later listened to it as a whole; quite a journey of discovery it was.

It is great to have a Polish expatriate at the heart of the NY Avant-Garde scene and I hope more Polish musicians will follow in that direction, not only to learn, but perhaps even more importantly to teach other musicians what Avant-Garde really means.

This is definitely another triumphant achievement by Walerian and his partners. Both Shipp and Parker have of course prolific careers of their own, but hopefully they will find time in the future to rejoin Walerian in another project. As usual, I am already waiting for more!
---