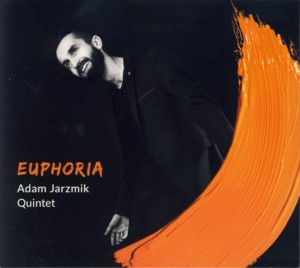 ADAM JARZMIK ~ EUPHORIA
AUDIO CAVE 2017/004 (Barcode: 5905669566254) ~ POLAND ~ Jazz
Recorded: 2016
Released: 2017
---
This is the debut album by Polish Jazz pianist / composer Adam Jarzmik

Find albums by this artist

, recorded in a classic quintet setting with trumpeter Pawel Palcowski

Find albums by this artist

, saxophonist Jakub Lepa

Find albums by this artist

, bassist Maciej Kitajewski

Find albums by this artist

and drummer Piotr Budniak

Find albums by this artist

. The album presents seven original compositions by Jarzmik and one arrangement of a standard.

The music is all within the mainstream Jazz idiom, with solid compositions and sleek execution, not very innovative but definitely worth hearing, especially in view of the age of the musicians involved. It is amazing how young Polish Jazz musicians are able to achieve a level of professionalism at an amazingly young age, which often takes musicians elsewhere twice the time.

Jarzmik´s compositions are his true forte and their quality and imaginative themes are the focus of this album. Although they are mostly rather atypical as far as the Polish Jazz scene is concerned, being more inclined towards the American Jazz tradition with the post Bebop dominance, they are still interesting enough to save the day. The lyrical ballads, like the title track, are more characteristic of Polish Jazz, and are the best pieces on the album by far.

Overall this is a very presentable debut album, which shows a lot of potential both as far as the leader / composer is concerned and as far as the musicians in the quintet, some of which already have a recording history, especially the drummer, are concerned. For many musicians some decades ago, albums like this one were the pinnacle of their career, and since this is after all a debut, it definitely shows the level of extraordinary musicianship these young people already posses at their early age. These musicians are definitely worth listening to and watching for their future achievements, which are sure to be even more accomplished.
---