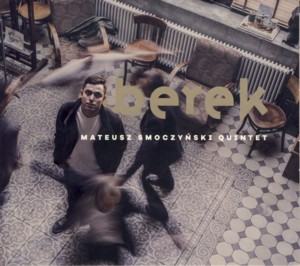 MATEUSZ SMOCZYNSKI ~ BEREK
UNIVERSAL 602557610710 (Barcode: 602557610710) ~ POLAND ~ Jazz
Recorded: 2016
Released: 2017
---
This is the third album as a leader by Polish violinist / composer Mateusz Smoczynski

Find albums by this artist

, recorded again in a quintet setting with guitarist Konrad Zemler

Find albums by this artist

, his older brother pianist Jan Smoczynski

Find albums by this artist

, bassist Wojciech Pulcyn

Find albums by this artist

and drummer Michal Miskiewicz

Find albums by this artist

. The album presents twelve original compositions, one of which is repeated twice, seven of which were composed by Jan Smoczynski, two were composed by Mateusz Smoczynski, two were co-composed by the Smoczynski brothers and one is credited to all five members of the quintet. The album was recorded in the legendary Studio Tokarnia and engineered by Jan Smoczynski, with spectacular sound fidelity.

In the last decade Mateusz Smoczynski, both as a solo artists and member of the already legendary Atom String Quartet

Find albums by this artist

, has been consistently paving his way to the Top of the Polish Jazz violin school, which has very little competition in any other part of the world. That top, extremely overcrowded by young musicians, is simply exploding with talent and incredible dexterity, to the delight of Jazz lovers, both in Poland and the world over, and is just one of the symptoms that characterize the Polish Jazz scene in general.

On this album Mateusz Smoczynski does not have to prove anything anymore, and therefore he is able to concentrate on his total delivery of the music, his personal style and the finesse of his skills. The exquisite compositions by Jan Smoczynski suit ideally his expressive style and their intrinsic elegance and lyricism, as well as superb Swing are simply ideal vehicles for the music to come forward.

Of course he is splendidly supported by the members of the quintet, all of which are Top Polish Jazz players with extensive experience and outstanding talents. The almost completely acoustic sound of the album allows for delicate and intricate interactions between the musicians, full of mutual respect. The round sound of the quintet, and the blooming sound quality, create a wonderful aural experience, which should leave no listener cold.

The music is a wide amalgam of many influences, none of which are particularly dominant, but to a sensitive ear are obviously audible, such as some Classical stylistic hooks, Polish Folklore motifs, tribute to past Polish Jazz violin legends, and many others. Of course these elements are perfectly well balanced and manage to create a new entity, which simply speaks for itself.

Overall this is a "perfect" album, one that has nothing that should be changed or added to it in any sense. It is beautifully performed and offers wonderful music, full of European aesthetics. There are no false pretences, no exhibitionism and no boring derivative fillers, just honest, straightforward great music from start to finish. So far definitely one of the best offers in 2017 that landed on my desk (or in my ears). Chapeau bas!
---