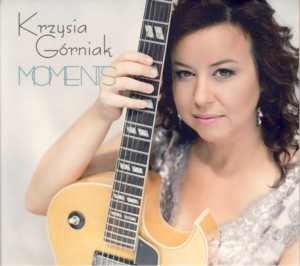 KRZYSIA GORNIAK ~ MOMENTS
POLSKIE RADIO 1851 (Barcode: 5907812248512) ~ POLAND ~ Jazz
Recorded: 2016
Released: 2016
---
This is the seventh album by Polish Jazz guitarist / composer Krzysia Gorniak

Find albums by this artist

, recorded in a quartet format with keyboardist Zdzislaw Kalinowski

Find albums by this artist

, bassist Lukasz Makowski

Find albums by this artist

and drummers Grzegorz Grzyb

Find albums by this artist

or Gniewomir Tomczyk

Find albums by this artist

. The album presents nine compositions, five of which are originals by Gorniak, one is co-composed by her, two are by the Greek bassist / composer Evangelos Tzimkas

Find albums by this artist

, who played on Gorniak´s debut album, and the final one is by Makowski.

The music is all melodic mainstream Jazz, on the easy side of the spectrum, with excellent compositions which present a wide spectrum of emotions and moods. The sound of the guitar dominates the proceedings, playing clear single notes and harmonic chord structures, which basically need only limited support from the rhythm section and the keyboards. Gorniak clearly developed a mature sound and style over the years and this album is coherent and professional to the max. Some nice World Music influences are also incorporated into the music on some of the tunes.

All the musicians involved play excellently from start to finish and are given an opportunity to show their chops in solo parts, but Gorniak is obviously the leader in charge and dictates the terms. Her guitar sound is sleek and demonstrates her absolute charge of the instrument. She is definitely different from all other guitar players on the Polish scene, and her unique approach to the instrument puts her in a class of her own.

It seems that this album is somewhat more Fusion oriented than I expected, which is not that much evident in the guitar playing but more so in the parts played by the band behind. Luckily there is still enough of the Jazz feel on this album, to make it work within the Jazz framework. Gorniak´s solos are kept carefully in check and don´t enter the typical race with the notes, which makes many Fusion albums hard to bear.

Overall this is a wonderful guitar album, which should make guitar lovers wet their lips with delight, and which is also very accessible to a wide range of listeners, without making any compromises as far as the quality of compositions and performances are concerned. Combined with the superb sound quality the album offers, this is an album music lovers should not miss!
---