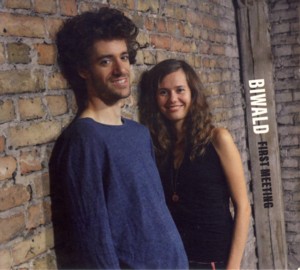 BIWALD ~ FIRST MEETING
NOT ON LABEL ~ POLAND ~ Jazz-Classical Fusion
Recorded: 2015
Released: 2016
---
This is the debut album by the duo BiWald

Find albums by this artist

, which comprises of the Polish cellist Julia Bilat

Find albums by this artist

and Israeli pianist / composer Daniel Schwarzwald

Find albums by this artist

. The album presents twelve compositions, five of which are originals by Schwarzwald, five are co-composed by Bilat and Schwarzwald, one is a traditional tune and one is a Classical composition by Gaspar Cassado

Find albums by this artist

.

The music is a beautiful intimate dialogue between cello and piano, full of emotion, elegance and grace. The music, mostly original, amalgamates the Classical influences both musicians were exposed to during their years as music students, with Jazz improvisation. The themes are very melodic and lyrical, flowing gently from one track to another, which creates a dreamy, relaxed and magical atmosphere.

Among many attempts to combine Classical Music and Jazz, this is definitely one of the best ones I have come across in a long time. It beautifully mixes the two genres, preserving the basic qualities of both: the melodic and harmonic structure of European Classical Music and the freedom of improvisation and ability to stretch beyond the strict scenario confined within the notes, which characterizes Jazz.

The telepathic unity between the two players and the enormous respect they both have for each other, combined with their respective virtuosity, creates deeply moving music, which should not leave any music lover cold. This is a truly extraordinary piece of contemporary music, which hopefully will reach as many listeners around the world as it truly deserves.

I urge everybody to make an effort and find a copy of this album; you will not regret doing so I assure you. Instant gratification and a moving emotional experience are guaranteed!
---