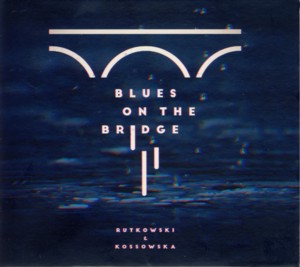 RUTKOWSKI & KOSSOWSKA ~ BLUES ON THE BRIDGE
LUNA 395 (Barcode: 5900672923957) ~ POLAND ~ Jazz-Blues Fusion
Recorded: 2016
Released: 2016
---
This is an album by Polish Jazz vibraphonist / composer Milosz Rutkowski

Find albums by this artist

and vocalist / harmonica player Beata Kossowska

Find albums by this artist

. They are supported by bassist Grzegorz Piasecki

Find albums by this artist

and drummer Wojciech Bulinski

Find albums by this artist

. Guitarist Krzysztof Puma Piasecki

Find albums by this artist

appears as guest artist. Together they perform eleven compositions, all of which are originals by Rutkowski except for one Pop standard and one Polish Pop song.

The music is a nice amalgam of Jazz and Blues, pretty unusual these days as the two genres have grown apart despite their common roots. The original compositions by Rutkowski are all excellent, with strong melodic content and perfect harmonic structure, as well as internal Groove and Funky feeling. The basic sound of the album is very Jazzy and the Blues seasoning is emphasized mostly by the harmonica and guitar parts and the vocals.

The instrumental performances are all excellent from start to finish and the album is a great fun to listen to, beautifully balancing the sophistication of the Jazz ingredients and the emotional influx of the Blues. Personally I´m not really excited by the vocals and would have preferred this album in purely instrumental version, which would have made it truly exceptional, buy hey, that´s just me. Kossowska does however contribute some breathtaking harmonica parts. The young rhythm section does a perfect job and Piasecki burns with his electrifying solos.

Overall this is a very enjoyable album, which maintains a classy approach to the Blues along with the basic Jazz attitude, which should easily satisfy connoisseurs of both genres. Wholeheartedly recommended!
---