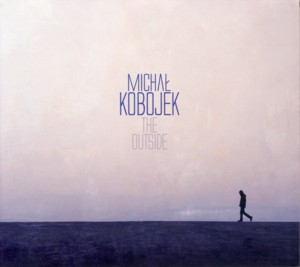 MICHAL KOBOJEK ~ THE OUTSIDE
MANXIMUM 5908254159596 (Barcode: 5908254159596) ~ POLAND ~ Smooth Jazz
Recorded: 2015
Released: 2016
---
This is the second album as a leader by Polish saxophonist / composer Michal Kobojek

Find albums by this artist

, recorded in a quartet setting with pianist Witold Janiak

Find albums by this artist

, bassist Wojciech Pulcyn

Find albums by this artist

and drummer Przemyslaw Kuczynski

Find albums by this artist

. Guitarist Marek Kadziela

Find albums by this artist

appears as a guest artist. The album presents eight original compositions, all by Kobojek.

Kobojek´s career is mostly associated with the Polish Pop / Rock scene due to his cooperation with many top Polish artists / groups in that area. But obviously the Jazz streak has always been there as part of his musical personality.

The music is, as expected, definitely on the lighter side of the Jazz idiom, somewhere near the Smooth Jazz concept, which, as I have stated many times, does not mean that the music is necessary inferior in any way to other Jazz styles, as this album overwhelmingly proves. The album is full of absolutely beautiful melodies, all of which manage to avoid the schmaltzy stigma of the bad side of Smooth Jazz. The music is romantic and beautifully lyrical and presents Kobojek as a gifted composer, who mixes feeling with professionalism.

The performances are all highly professional, but relatively constrained without presenting any virtuosic solos or complex improvisations, which of course goes hand in hand with the album´s intended character. Kobojek plays with a sweet timbre and stays close to the melody lines, but his skills are obvious as is his feel for the music. Janiak plays excellent accompanying chord structures, exactly what is required in this case, inserting several nicely structured solos. The rhythm section is doing a superb job in the background, with Pulcyn, as always, being the Master of bass accompaniment.

Overall this is a very good straightforward Smooth Jazz album, full of great melodic music, which does not make any compromises as far as the quality is concerned. Listeners, who are Romantics at heart, regardless of their age, should find this album exactly what they need to make their day (or night).
---