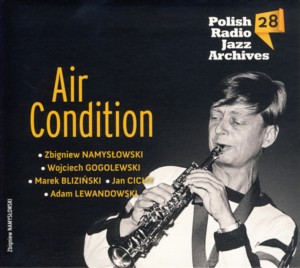 ZBIGNIEW NAMYSLOWSKI ~ POLISH RADIO JAZZ ARCHIVES VOL.28
POLSKIE RADIO 2060 (Barcode: 5907812245849) ~ POLAND ~ Jazz
Recorded: 1983
Released: 2017
---
This is the twenty-eighths installment in the series of releases initiated by the Polish Radio, which presents archive Jazz recordings from the radio vaults. Radio recordings are always a fabulous source of remarkable material, and as far as Polish Jazz history is concerned, the Polish Radio, which was a state monopoly for 45 years, recorded over time a plethora of invaluable material, which apart from the albums released by the Polskie Nagrania record company (also a state monopoly), is the only available additional source of Polish Jazz recordings. For many years Polish Radio recorded concerts presented during Poland´s most important Jazz venues, including the annual Jazz Jamboree Festival and many other festivals as well.

The tracks presented here were recorded live in October 1983 during the twenty-fifth edition of Jazz Jamboree Festival in Warsaw and present the quintet led by one of the Godfathers of Polish Jazz, saxophonist Zbigniew Namyslowski

Find albums by this artist

, called Air Condition

Find albums by this artist

, which also included pianist Wojciech Gogolewski

Find albums by this artist

, guitarist Marek Blizinski

Find albums by this artist

, bassist Jan Cichy

Find albums by this artist

and drummer Adam Lewandowski

Find albums by this artist

. The quintet performs seven original compositions, all composed by Namyslowski.

Namyslowski is one of the very few Polish Jazz musicians who have appeared consistently on the local scene since the 1950s and kept their music up to date over time, pioneering trends and new developments. Over the years his many groups featured the ever young talents of the heart and soul of the Polish Jazz community. This recording is a great document of that phenomenon, showing Namyslowski´s Air Condition group, which was active in the early 1980s, recorded several excellent albums and toured worldwide. Although the group changed its lineup quite often, it was always excellent. This particular lineup recorded only one studio album, which was only released in Greece, which makes this recording especially valuable. For Namyslowski´s many fans around the world and Polish Jazz enthusiasts this is an absolute must!

The beautifully restored sound quality is excellent and the warm ambience of the analog recording is a true joy. As usual with this series, which is very reasonably priced, I miss the presence of "in depth" liner notes / booklet, which should convey the circumstances at which this music was recorded and its importance to the development of Jazz in Poland. Nevertheless this is an absolutely essential piece of Jazz history which every Jazz fan will surely consider an absolute must.
---