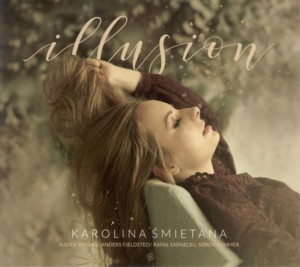 KAROLINA SMIETANA ~ ILLUSION
RECART 0021 (Barcode: 5908285287206) ~ POLAND ~ Jazz
Recorded: 2015
- 2016
Released: 2017
---
This is the debut album by the Polish (resident in Denmark) singer / songwriter Karolina Smietana

Find albums by this artist

recorded with an excellent Polish / Danish quartet comprising of Polish guitarist Rafal Sarnecki

Find albums by this artist

and drummer Radek Wosko

Find albums by this artist

and Danish pianist Soren Gemmer

Find albums by this artist

and bassist Anders Fjeldsted

Find albums by this artist

. The album presents nine tracks, six of which are original compositions by Smietana, one is co-composed by her and Wosko and the remaining two are standards. Smietana also wrote the English lyrics to five of the songs, one is a poem by the Polish poetess Wislawa Szymborska

Find albums by this artist

(and is the only case of Polish lyrics on the album) and the remaining three texts originate from other sources. The album was recorded (mostly) at the excellent RecPublica Studios and engineered by Lukasz Olejarczyk

Find albums by this artist

with great sonic results, as expected.

Smetana´s music is quite typical of the Polish Jazz vocal idiom, with solid melodies and coherent structures, which are pleasant and easy on the ear, without being trivial or boring. The songs are diverse enough to show her compositional palette and the lyrics are not an insult to the intelligence, which in today´s musical world is a success by itself. On the other hand, however, not everything is perfect; Smietana has a nice mellow voice, which she uses wisely, but her vocal range is limited and there are no virtuosic vocal performances herein. The usual problem with singing in English, when it is not the singer´s native tongue, produces the common pronunciation and accent problems.

What gives the album a great boost are the great instrumental performances by the quartet, which does a superb job accompanying her. Sarnecki plays superbly and manages to create a few brilliant solos. Gemmer also proves to be a great accompanist, with a great feel for melody and excellent technique. The rhythm section does an amicable job all along and plays along with the vocals and the lead instruments with elegance and flair. In short the instrumental parts are top notch.

Overall this is a nice vocal Jazz album, which exposes Smietana as an able vocalist and solid composer, marking a positive kickstart of her career. I am already looking forward to her next project!
---