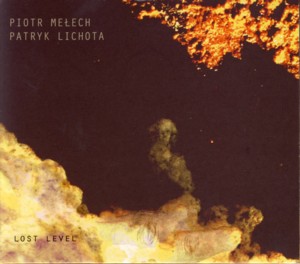 PIOTR MELECH / PATRYK LICHOTA ~ LOST LEVEL
MULTIKULTI MPLE 001 (Barcode: 5907529223420) ~ POLAND ~ Avant-Garde Jazz
Recorded: 2011
Released: 2013
---
This is the debut album by Polish experimental duo, which consists of clarinetists / composer Piotr Melech

Find albums by this artist

and live electronics performer Patryk Lichota

Find albums by this artist

. The album presents seven original compositions, all co-composed by Melech and Lichota. The album was released by the prestigious Multikulti

Find albums on this label

label as a numbered Limited Edition.

The music is one of the very few examples of Avant Garde / Improvised Music, which incorporates fully acoustic instruments and electronics, treating the two distinct worlds on an equal plane, whereas in most cases when electronics are used, they are confined to a marginal role in the overall framework.

The entire sound environment created by the two musicians is very unorthodox and presents numerous innovative approaches, which are all quite fascinating. The traditional "sweet" tone of the clarinet is radically changed by electronic manipulation, used in a multilayered recording technique, with pure clarinet and pure electronic sounds also added to the entire collage.

There is very little melody used as such, but melodic fragments are an integral part of the entire creation, creating a link to "conventional" music, without which the sonic structures might have been a tad too detached from what most listeners define as music.

Overall the album is a fascinating trip into unconventional musical spheres, which manages to keep the listener on his toes, unable to predict what the next move will be, which defines the essence of creativity after all. Although released a few years ago, this is still more innovative than most contemporary releases and definitely worthy of discovery.
---