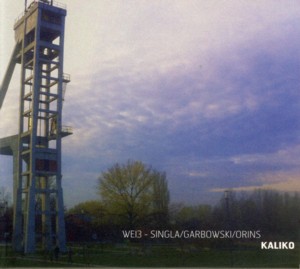 WEI3 ~ KALIKO
CIRCUM 009 ~ GERMANY ~ Jazz
Recorded: 2015
Released: 2016
---
This is the debut album by the International Jazz trio WEI3

Find albums by this artist

, which comprises of German (of Indian origin) pianist Jarry Singla

Find albums by this artist

, Polish bassist Maciej Garbowski

Find albums by this artist

and French drummer Peter Orins

Find albums by this artist

. The album presents ten original compositions, five of which are by Singla, four by Garbowski and one is a sacral piece.

Although basically a classic Jazz piano trio, WEI3 takes this format way beyond its typical modus operandi, venturing deeply into modern Jazz with many degrees of freedom and spontaneity. Although melody based, the music allows for exploration of different tonalities and the use of electronics, although moderate, adds yet another dimension to the proceedings. Some World Music influences are also present.

The individual performances by these three musicians are spectacular from start to finish and their combined talents create an ensemble sound, which is very challenging, intelligent and deeply aesthetic, reflecting the best European qualities found in contemporary Jazz

Overall this is a superb debut effort, which emphasizes the endless possibilities for Jazz to constantly develop and conquer uncharted territory. The greatest asset of this album is the fact that the music is very advanced and challenging and yet seems to be perfectly acceptable by the vast majority of Jazz listeners, making it an excellent tool to develop the understanding and love of non-trivial music. Wholeheartedly recommended!
---