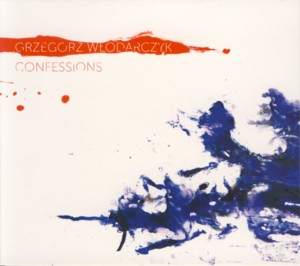 GRZEGORZ WLODARCZYK ~ CONFESSIONS
UNIT 4626 (Barcode: 7640114796265) ~ POLAND ~ Jazz
Recorded: 2015
Released: 2015
---
This is the debut album by Polish Jazz bassist / composer Grzegorz Wlodarczyk

Find albums by this artist

, recorded by an international quintet with saxophonist Maxime Berton

Find albums by this artist

, pianist Enzo Carniel

Find albums by this artist

, guitarist Virxilio da Silva

Find albums by this artist

and drummer Joao Lopes Pereira

Find albums by this artist

. The album presents seven original compositions, four composed by Wlodarczyk, two by da Silva and one by Carniel.

The music is typical contemporary European mainstream Jazz, based on melodic themes which serve as vehicles for the improvisations by the quintet members. The melodic / harmonic structures are very solid and coherent, and they emphasize the European Jazz aesthetic, which is somewhat introvert and composition focused, with a tad of melancholy and lyricism. All seven tunes are surprisingly mature and display a level of complexity usually found in works by much more experienced composers.

All members of the quintet turn out to be excellent instrumentalists, who are able to develop intelligent solo spots within the ensemble entity, eschewing senseless personal competition. The leader plays several bass solos throughout the album, showing his abilities as a player in addition to his contributions as composer.

This album is a typical example of work done by ensembles created by students in the Jazz Universities around Europe, in this case students of the University of Music and Performing Arts in Graz, Austria. The incredible level of achievements by these ensembles is truly astounding in view of the young age of the participants and of course points to the bright future that can be expected from the Jazz idiom in Europe.

Overall this is a very impressive debut album, with great tunes and superb performances, which should satisfy Jazz connoisseurs anywhere on this planet. Wholeheartedly recommended!
---