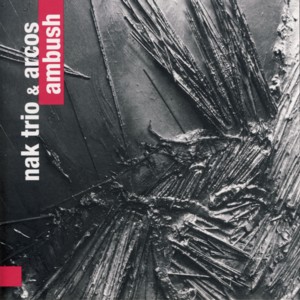 NAK TRIO ~ AMBUSH
FOR TUNE 0122 (Barcode: 5906395808243) ~ POLAND ~ Jazz-Classical Fusion
Recorded: 2016
Released: 2017
---
This is the second album by Polish Jazz ensemble called NAK Trio

Find albums by this artist

, led by veteran drummer / composer Jacek Kochan

Find albums by this artist

and also including pianist Dominik Wania

Find albums by this artist

and bassist Michal Kapczuk

Find albums by this artist

. The trio is accompanied by a nine players strong string section, which includes violinist Mateusz Smoczynski

Find albums by this artist

, who plays solos on a couple of tracks. The album presents eight original compositions, all by Kochan and all arranged by him except for one of the string arrangements done by Smoczynski.

The music is quite complex and although melody based, in features confusing rhythmic patterns and fragmented pieces of melodies, which don´t make it easy on the listener to find his way along the tunes. The string arrangements add another layer of complexity to the proceedings and the final result presents music which moves between modern Contemporary Classical elements and Jazz and require attentive listening and patience.

Wania, who plays electric piano on this album (Fender Rhodes and Wurlitzer), is the chief soloist and his playing is, as usual, very convincing and technically perfect. He handles the odd meters and tempi changes with ease and elegance. Kapczuk supplies the basic bottom lines all along with a few nice solos on the way. Kochan delivers the complex polyrhythmic drive with obvious talent and skill.

Overall this is a very ambitious undertaking, which might be a tad too much for the average Jazz listener. The electric piano combined with the Classical sound of the strings and the unfamiliar rhythmic patterns are an acquired taste. Wania´s piano playing and the violin solos are the highlights of this unusual album, which is definitely worth investigating by the more motivated listeners. The album also emphasizes the diversity and multifaceted involvedness of the Polish Jazz scene.
---