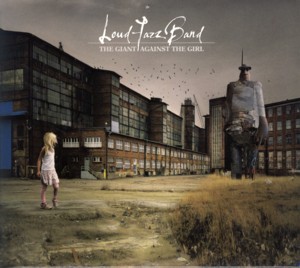 LOUD JAZZ BAND ~ THE GIANT AGAINST THE GIRL
POLSKIE RADIO 1362 (Barcode: 5907812243623) ~ POLAND ~ Jazz-Rock Fusion
Recorded: 2016
Released: 2017
---
This is the ninth album by the multi-national Jazz-Rock Fusion ensemble called Loud Jazz Band

Find albums by this artist

, led by Polish guitarist / composer Miroslaw Kaczmarczyk

Find albums by this artist

. The ensemble continues in the octet lineup and again features the talents of Polish pianist Pawel Kaczmarczyk

Find albums by this artist

. A couple of guest artists appear on two tracks. The album presents seven original compositions, all composed by Miroslaw Kaczmarczyk and one live bonus track also composed by him.

The music continues the same pattern of melodic themes, which are arranged to feature the brass section (trombone and saxophone), two keyboardists, an extended rhythm section (bass, drums and percussion) and of course the guitar work by the leader, which this time is less dominating than on previous recordings by the ensemble. The powerful orchestral sound is very impressive and enables plenty of opportunities for solos by all the participants. The expanded compositions have their internal dynamics and flow, which makes them very listenable. It seems that the music of Loud Jazz Band is slightly less "loud" this time, with the compositions being more multifarious, both melodically and rhythmically and often quite intimate.

The individual contributions are all top notch as far as talent and professionalism are concerned and the ensemble functions in superb unison. At times the music is somewhat reminiscent of Progressive Jazz-Rock bands from the 1970s, which of course is meant as a compliment.

The only snag about this album is the fact that the music of Loud Jazz Band has reached a comfortable formula, which allows them to produce album after album of very similar material, which even as good as it is can´t last them forever, which in turn means that a pursuit of new avenues should be contemplated.

Overall this album is a very pleasant and polished piece of Fusion, which should keep the fans of the genre very happy and another proof of the fact that Loud Jazz Band are one of the best ensembles in that particular field. Definitely worth checking out!
---