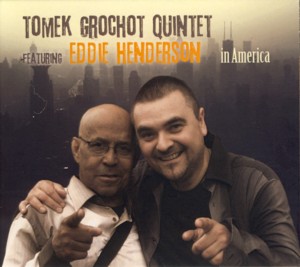 TOMEK GROCHOT ~ IN AMERICA
NOT ON LABEL ~ POLAND ~ Jazz
Recorded: 2011
- 2016
Released: 2016
---
This is the second album by Polish Jazz drummer / composer Tomek Grochot

Find albums by this artist

, recorded in a classic quintet setting with veteran American trumpeter Eddie Henderson

Find albums by this artist

and saxophonist Rob Denty

Find albums by this artist

, and Polish pianist Dominik Wania

Find albums by this artist

and bassist Krzysztof Pabian

Find albums by this artist

. The album presents seven original compositions, six composed by Grochot and one by Pabian. Of the album´s seven tracks, six were recorded in 2011, i.e. five years prior to the album´s release, and one short bonus track is a recent recording from 2016.

The music is typical mainstream Jazz, very much in the American Jazz tradition, based on the excellent compositions, which are used as vehicles for solo spots by the quintet members. The character of the compositions reflects the Polish facet of this music, being full of melancholy and lyricism, which is best expressed by the exceptional playing by Wania. But of course all the performances are highly professional and overall the album represents mainstream Jazz at its best.

This album is plain evidence of the fact that Polish and American Jazz musicians can play together without any inferiority complexes hindering the proceedings, as well as the fact that American Jazz tradition spiced with Polish musical influences works out perfectly, a cultural meeting which is happening more and more often in the last decade with remarkable success.

Overall this is a highly professional mainstream recording, which should satisfy a wide range of Jazz fans anywhere on the globe. Great tunes, exciting soloing and polished execution ensure that the album delivers exactly what is expected in such circumstances. Definitely worth investigating!
---