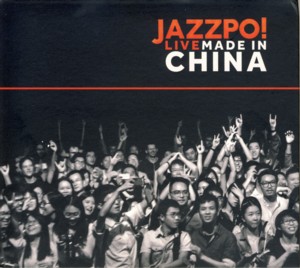 JAZZPOSPOLITA ~ JAZZPO! LIVE MADE IN CHINA
AUDIO ANATOMY 001 (Barcode: 5906660083009) ~ POLAND ~ Jazz-Rock Fusion
Recorded: 2015
Released: 2016
---
This is the fifth (and first live) album by Polish Jazz-Rock Fusion group called Jazzpospolita

Find albums by this artist

, which comprises of guitarist Michal Przerwa-Tetmajer

Find albums by this artist

, keyboardist Michal Zaleski

Find albums by this artist

, bassist Stefan Nowakowski

Find albums by this artist

and drummer Wojciech Oleksiak

Find albums by this artist

. As the title suggests, the album was recorded live during the group´s tour in China and presents two CDs, each with seven original compositions, all composed and arranged collectively by the members of the group. The album includes live versions of all the nine compositions presented on the group´s fourth album ("Jazzpo!

Find albums with this title

") and five compositions from their earlier recordings. The music was mixed and mastered by Jan Smoczynski

Find albums by this artist

at the Studio Tokarnia with superb sonic result as usual.

Although these expanded live versions of the Jazzpospolita´s material don´t present any new facets of the group´s superb live act, which I had the pleasure to experience at first hand several times, they do affirm their positions as one of the most successful young European groups that emerged in 2010s, with a strong appeal to the young generation of listeners, apparently across the globe. The highly melodic and hypnotic compositions, which create a trance-like and ever surreal atmosphere are very communicable and appealing.

All four members of the group manage to compliment their individual instrumental abilities and create a unique sound and even style, which is immediately recognizable. The sterile sound of the guitar, which is the leading instrument in most cases, brings memories of the instrumental Rock groups from the early 1960s, but modernized of course and supported by electric piano, create together a surprisingly convincing effect, when supported by the highly skillful rhythm section. Silence and breaks are an integral part of the Jazzpospolita magic, again quite unusual in comparison to what is happening in contemporary music.

This album is an ideal entry point into the Jazzpospolita world, especially for listeners unfamiliar with their earlier albums and therefore highly recommended as such. But overall it is a beautiful stretch of great instrumental music, which manages to create an atmosphere of mystery and anticipation, keeping the listeners in suspense from start to finish. Connoisseurs of atmospheric melodic improvised music should have a field day with this album, which I warmly recommend!
---