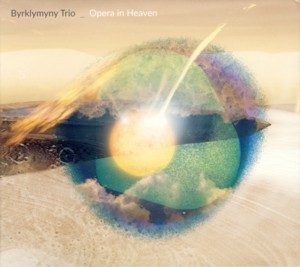 BYRKLYMYNY TRIO ~ OPERA IN HEAVEN
ALLEGRO 033 (Barcode: 5901157049339) ~ POLAND ~ Jazz-Rock Fusion
Recorded: 2005
Released: 2016
---
This is the archival debut album by Byrklymyny Trio

Find albums by this artist

led by veteran Polish Jazz violinist Henryk Gembalski

Find albums by this artist

and including bassist Wojciech Zduniak

Find albums by this artist

and drummer Michal Zduniak

Find albums by this artist

. The album presents an original nine-piece suite credited to all three trio members.

The music is quite versatile and moves between Ambient, Jazz and Jazz-Rock Fusion, with an emphasis on the latter, especially due to the use of electric bass and rhythmic Rock patterns. Although based on melodic themes, the music ventures into lengthy improvised passages, which feature the violin using a plethora of synthesized effects, sounding nothing like the traditional acoustic instrument. The overall effect of the music creates a kind of imaginary voyage or soundtrack of an imaginary movie, hypnotic and absorbing.

The rhythm section is very much involved in the actual creation of the music, playing much more than is simply required to keep the tempo, adding polyrhythmic pulsations and groovy / funky bass lines. Combined with the violin extravaganza on top of the rich rhythmic layer the music keeps the listener on edge for the entire duration of the album.

This album is another example of the versatility and depth of the Polish Jazz violin school that is experiencing a wonderful renaissance lately and is probably the leading world center of violin oriented Jazz activities in the world, taking over the traditional lead from France. This phenomenon is definitely worth a closer study.

Gembalski, who is a part of the Polish Jazz scene since many years, and who was usually associated with the more Avant-Garde oriented circles, takes a new position within the mainstream this time, without of course lowering his standards or giving up his musical integrity. This album should expose his great talent to many new listeners, who have somehow missed him earlier on.

For violin lover this album is definitely a must, especially in view of its unique approach to the instrument and excellent, albeit unusual, musical contents. Wholeheartedly recommended!
---