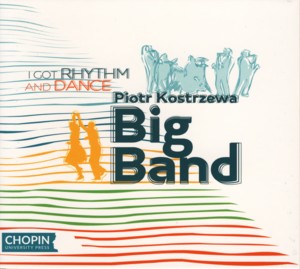 PIOTR KOSTRZEWA BIG BAND ~ I GOT RHYTHM AND DANCE
MTJ 11750 (Barcode: 5906409117507) ~ POLAND ~ Jazz
Recorded: 2016
Released: 2017
---
This is the fourth album by the Polish Big Band led by Piotr Kostrzewa

Find albums by this artist

. Established in 2006 the band consists of students of the Frederic Chopin University of Music in Warsaw and Kostrzewa is its artistic manager since 2012. Since the University does not have a Jazz Department, a membership in the Big Band is the only exposure to Jazz the students get during their studies. The Big Band performs eleven pieces, mostly Jazz standards, a few Cuban and Brazilian standards and one Classical piece, all arranged for the Big Band.

Since Big Bands are almost extinct in today´s artistic and economic reality, the very fact that this Big Band exists and even more so in view of its concert and recording activity it is a great pleasure to see its success. The members of the band are all highly talented musicians and under Kostrzewa´s direction the Big Band sounds professional in every respect. Although the repertoire is quite conventional and straightforward, the main purpose of this Big Band is the popularization of the Jazz idiom to a wide audience, which it does highly professionally and skillfully.

For fans of the Big Band sound and Jazz from the Swing period, this album is a great fun to listen to. Of course nothing beats the sound of a Big Band heard live, but listening to this album is definitely a second best.
---