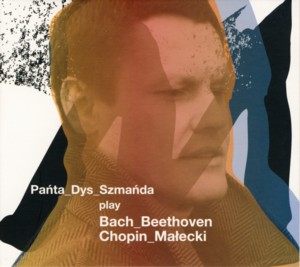 PANTA / DYS / SZMANDA ~ PLAY BACH / BEETHOVEN / CHOPIN / MALECKI
NOT ON LABEL (Barcode: 5902249020519) ~ POLAND ~ Jazz-Classical Fusion
Recorded: 2012
- 2013
Released: 2015
---
This is a tribute album dedicated to the memory of the Polish Jazz pianist / composer Marcin Malecki

Find albums by this artist

, who died in 2008 after losing the battle with cancer. The material on this album was intended to be recorded by Malecki on his second album, but sadly that recording never materialized. This album recreates the ideas from the remaining scores and the piano parts are played by Krzysztof Dys

Find albums by this artist

, together with the original members of Malecki´s trio, bassist Pawel Panta

Find albums by this artist

and drummer Krzysztof Szmanda

Find albums by this artist

. As the title suggests, the album includes two original compositions by Malecki and five arrangements of classical pieces. The music was fabulously recorded at the Studio Tokarnia with Jan Smoczynski

Find albums by this artist

at the helm, as always.

The music is everything one might expect from a Jazz-Classical Fusion album, with clever arrangements of well known Classical pieces beautifully performed by first class musicians, who are amongst the best on the Polish Jazz scene. Kept well within the mainstream Jazz conventions, the music manages to keep the listener on his toes mainly due to the virtuosic performances by all three members of the trio. Dys reveals his Classical roots and his wonderful ability to swing, Panta plays complex yet natural bass lines and Szmanda vigorously keeps things swinging, with a great drums solo displaying his abilities.

This is as good a classic Jazz piano trio album as they come and every fan of piano trio should enjoy this to the max, especially those people who like Jazzy interpretations of Classical music. It is also a beautiful example of friendship and honoring a friend´s memory, which is commendable, especially in a world where every man for himself seems to be the leading motto. Well done Gentlemen!
---