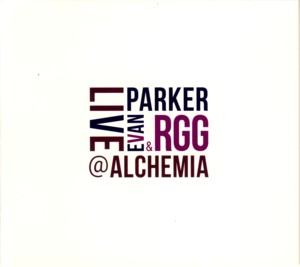 EVAN PARKER / RGG ~ LIVE @ ALCHEMIA
FSR 2017/01 (Barcode: 5905279364172) ~ POLAND ~ Free Jazz / Improvised Music
Recorded: 2016
Released: 2017
---
This is a live recording by the legendary British saxophonist Evan Parker

Find albums by this artist

performing together with one of the top Polish Jazz trios RGG

Find albums by this artist

, which comprises of pianist Lukasz Ojdana

Find albums by this artist

, bassist Maciej Garbowski

Find albums by this artist

and drummer Krzysztof Gradziuk

Find albums by this artist

. Together the ad hoc quartet performs four spontaneously composed pieces, credited to all four members of the quartet. The music was recorded at the celebrated Krakow´s Alchemia club, which since many years is associated with the Polish and international Improvised Music scene.

The courageous experiment of combining forces between Parker and RGG seems, at least in theory, quite unexpected to say the least. Based on their recording history one might contemplate how the music of Parker, which always symbolized the extreme Avant-Garde and total freedom of expression, might be combined with the music of RGG, which although featured some elements of freedom, was always strongly melody based and full of typical Polish lyricism and Romanticism. Apparently, music is able to unite most stylistic gaps and in this particular case simply emerges victorious. As a result we have some of the most "melodic" and relaxed Parker performances ever put on record and the most free oriented music ever recorded by RGG, both wholly amalgamated into a new form of expression.

In spite of the age difference between Parker and the RGG members, there seems to be a complete and profound understanding and mutual respect between the musicians, which allows the music to flow and flourish uninhibited and overwhelmingly moving. As usual in such musical circumstances, the music requires attentive and open-minded listening, but its quality assures a most wonderful aesthetic experience. The personal performances are all, as expected, exhilarating and the challenge of playing with a legend mobilized the RGG members to give absolutely everything they had to give that night.

There is no doubt that this is one of the most challenging and daring Polish Jazz recording lately and a superb way to start 2017, which promises to be as exciting as the incredibly intense 2016. Maciej Karlowski

Find albums by this artist

deserves kudos for putting this experiment together and turning his FSR

Find albums on this label

label into an important player on the Polish record scene. Thanks also to the man with the biggest ears in Poland, Jan Smoczynski

Find albums by this artist

, for the wonderful mix and mastering, which result in a superb sound quality this album offers to the listener. Well done!
---