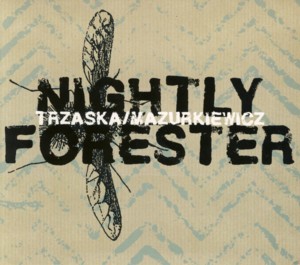 TRZASKA / MAZURKIEWICZ ~ NIGHTLY FORESTER
MULTIKULTI MPI 033 (Barcode: 5907796319895) ~ POLAND ~ Free Jazz / Improvised Music
Recorded: 2016
Released: 2016
---
This is an album by Polish Improvising Music duo comprising of clarinetist / saxophonist Mikolaj Trzaska

Find albums by this artist

and bassist Jacek Mazurkiewicz

Find albums by this artist

. They perform nine original compositions / improvisations co-credited their names. The unique aspect of this album is the fact that the music is a "field recording", capturing the two musicians performing in deep forest, away from any urban influences and studio technology. The sound quality of this recording is absolutely sensational.

The music is very intimate and mostly quite introvert, emphasizing the close dialogue Trzaska and Mazurkiewicz are able to create between them. The natural and clean sound of the instruments suits the overall nature of this music perfectly and creates a beautiful sonic ambience, rarely captured in a studio.

Trzaska manages to stay relaxed and low key, which shows his lyrical side more expressively than on most of his other numerous recordings. His clarinet work is stunning and full of Hassidic influences, lamentations and howls characterizing serious Klezmer music. Mazurkiewicz utilizes the arco and plucking techniques with great effectives. But most importantly they manage to maintain a coherent dialogue, which results in music being much stronger than just a sum of its ingredients.

Although Improvised Music is often estranged and unfriendly towards the listeners, this music is remarkably accessible and "strangely pleasant", of course in the most positive meaning of the phrase. Over several listening sessions it really gets under the listener´s skin and becomes an extension of his inner self, which happens of course very rarely.

Personally I find Trzaska´s return to the exploration of the Jewish Music motifs extremely satisfying, especially after a period of time when he was busy with other musical paths. Whatever the motivation might be, the end result is what counts, and it is most welcome. Music like this is the epitome of the "Art of the Duo", in its most refined and purified form. Superb stuff!
---