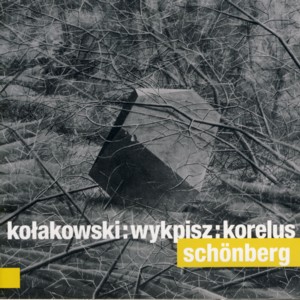 KOLAKOWSKI / WYKPISZ / KORELUS ~ SCHONBERG
FOR TUNE 0119 (Barcode: 5906395808229) ~ POLAND ~ Jazz-Classical Fusion
Recorded: 2016
Released: 2016
---
This is the debut album by Polish Jazz piano trio comprising of pianist Mateusz Kolakowski

Find albums by this artist

, bassist Alan Wykpisz

Find albums by this artist

and drummer Bartlomiej Korelus

Find albums by this artist

. The album presents the trio´s interpretation of the famous set of six pieces for solo piano by Jewish Austrian composer Arnold Schonberg

Find albums by this artist

called "Sechs Kleine Klavierstucke" (Op. 19 from 1911). All the six pieces of the set and an alternate take of the first piece are present herein.

Schonberg´s music was as much revolutionary in its nature at the time it was composed, as Free Jazz was some fifty years later, braking with existing tradition of Classical music (or Jazz music later) and paving the way for reinvention of the idiom. The six brilliant miniatures comprising the set influenced an entire generation of young European composers and Classical Music would not be the same from that moment on.

Kolakowski, Wykpisz and Korelus take a giant leap into the unknown by attempting to reinterpret this complex and highly sophisticated music and the final result proves that sometimes taking risks pays off big time. The music is indeed reinvented, often quite distant from the origin, and manages to amalgamate perfectly the essence of Jazz with the compositional concept of tonality, which the original pieces introduce.

The music is beautifully executed, perfect both technically and emotionally and full of virtuosic phrasing and dazzling arpeggios which should make the listener´s head spin. The elegance which characterizes the trio´s transitions between Classically influenced passages and the Jazzy vistas is mind-bugling and awe inspiring. It is difficult to imagine a more perfect match between Classical Music and Jazz than what this album offers, which simply means that musical genres are really quite meaningless.

Overall this is a superb piece of music, which should satisfy the most sophisticated music connoisseurs. Listeners who look for intellectual challenges in what they let into their ears should find this album overwhelmingly satisfying. Hats off!
---