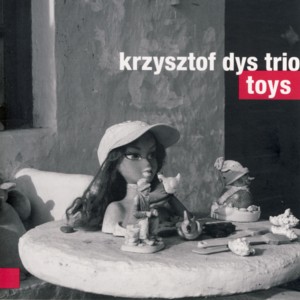 KRZYSZTOF DYS ~ TOYS
FOR TUNE 0115 (Barcode: 5906395808199) ~ POLAND ~ Jazz
Recorded: 2014
Released: 2016
---
This is the debut album in the classic piano trio format by Polish Jazz pianist / composer Krzysztof Dys

Find albums by this artist

, recorded with his usual cohorts: bassist Andrzej Swies

Find albums by this artist

and drummer Krzysztof Szmanda

Find albums by this artist

. The trio performs eleven classic modern Jazz compositions by famous American Jazz musicians / composers, except for one track which was composed by Antonio Carlos Jobim

Find albums by this artist

and in addition one original composition by Dys is also included.

Although not mentioned anywhere on the album´s artwork, this is the first Polish Jazz album dedicated to re-composition or de-composition of music composed by others, which does what other albums claimed to do but didn´t. It is of course a speculation on my part if this was the intended procedure by Dys and his colleagues, but the treatment of the well known compositions offered by the trio is very radical and most listeners will have a very hard time to identify these compositions simply by listening to the music, which seems to support my guesswork.

As a result this is definitely one of the most intellectually challenging Polish Jazz albums released lately and a true masterpiece, which deserves but the highest praise. The sublime balance between the hidden melodies and the Free Improvisations is magical and truly fascinating. The superb technique and virtuosity displayed by all the members of the trio clearly puts them in the high echelons of the Polish Jazz scene, which is no surprise to people following that scene closely

Dys gradually earns the respect and the position of "musician´s musician", which sadly does not always go in parallel to his popularity with the critics and Jazz listeners, and this album is an excellent example of such dilemma. It is simply to "witty" to be loved by the average Jazz fan. On the other hand considering his versatility and proficiency, Dys should sooner or later reach the level of popularity he truly deserves. His recorded legacy so far definitely proves his abilities beyond any shadow of a doubt.

Overall this is a excellent piece of highly sophisticated European Jazz, even if it is based on music written by American composers, which although challenging and demanding is very much worth the effort of several listening sessions, which should suffice to let the music sink deeply and be appreciated in full. Great stuff!
---