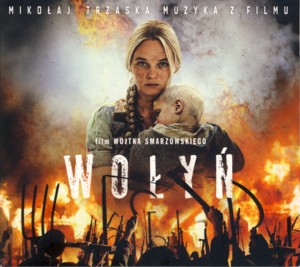 MIKOLAJ TRZASKA ~ WOLYN (SOUNDTRACK)
POLSKIE RADIO 2056 (Barcode: 5907812246853) ~ POLAND ~ Soundtracks
Recorded: 2015
Released: 2016
---
This is the soundtrack album with music from the film "Wolyn", directed by the cult Polish screenwriter / director Wojciech Smarzowski

Find albums by this artist

, composed by Polish saxophonist / clarinetist / composer Mikolaj Trzaska

Find albums by this artist

and recorded by Trzaska, bassist Jacek Mazurkiewicz

Find albums by this artist

and an orchestra called The Klezmer Orchestra of Pogranicze Theater

Find albums by this artist

, which is located in a small town of Sejny close to the borders between Poland, Lithuania and Belarus. Trzaska wrote the music for all the films by Smarzowski ("Dom Zly", "Roza", "Drogowka", "Pod Mocnym Aniolem" and "Wolyn"), except for his debut film ("Wesele").

The most important aspect of cinematographic music is of course its relevance to the film, of which it is an integral part. The question if the music is able to be relevant as an auditory experience, unrelated to the visual dimension, is very complex. In most cases soundtracks lose their relevance completely, when placed on an audio record. In some relatively rare cases, the music assumes an independent identity from the film and proposes a relevant and coherent audible experience. In extremely rare cases the music is not only able to stand alone but constitutes a musical masterpiece if its own right. This is definitely one of those extraordinary events.

The music combines a multitude of sources originating in the extremely rich Polish Music tradition, which over a thousand of years amalgamated dozens of Slavic Folkloristic styles, Jewish Klezmer music, European Classical Music and of course also Jazz, which in Polish Culture has probably a more direct influence than anywhere else in Europe or the entire world for that matter. Trzaska, who is one of the pioneers of contemporary Jewish Music renaissance in Poland, is of course one of the most successful sorcerers where it comes to updating and transforming Jewish rooted music into modernist stylistic amalgams, which include a variety of Jazz sub-genres with an emphasis on Free Jazz and Improvised Music. These Jazz influences are perhaps less noticeable in this music, especially for listeners not familiar with them in depth, but it is there at all times, at the deep foundations of the music.

The overall somber and grave atmosphere of this music is of course related directly to the film´s heartbreaking subject matter, but might be also related to more contemporary aspects of life, which influence us all. Trzaska, a deeply sensitive human being, projects his personality into his music, as all great Artists do, and yet his music becomes more universal because of it, rather than self-centered, as might be expected.

This is a very unique music, which could have only been created by a unique composer and the unique circumstances that influenced it: the convoluted history of the Polish People, their rich and complex Cultural background and the immense depth of their catastrophic experiences as a Nation. The decision the release this music on an album is very commendable. Wholeheartedly recommended!
---