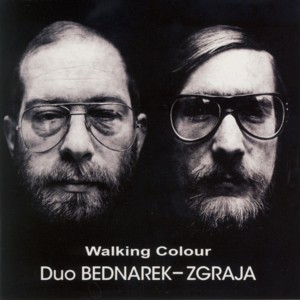 JACEK BEDNAREK / KRZYSZTOF ZGRAJA DUO ~ WALKING COLOR
GAD 047 (Barcode: 5901549197617) ~ POLAND ~ Jazz
Recorded: 1979
- 1982
Released: 2016
---
This is a reissue (first time on CD) of one of my all time favorite Polish Jazz albums, recorded by the superb duo which comprised of bassist / composer Jacek Bednarek

Find albums by this artist

and flautist / composer Krzysztof Zgraja

Find albums by this artist

. The original album, released on the legendary Poljazz

Find albums on this label

label in 1983, presented seven compositions, six of which were composed by Zgraja and one was composed by Bednarek. As usual with the splendid GAD

Find albums on this label

Records reissues, the album was expanded by seven previously unreleased additional pieces, all of which were recorded at the Polish Radio studio in Katowice, same as the material included on the original album, but during two different recording sessions. The entire album was beautifully remastered from the original master tapes and the album includes an extensive and again, as usual, highly informative bi-lingual booklet with background information about the album´s background.

The music is a wonderful collection of cross-genre compositions, which amalgamate Jazz with World Music influences, contemporary Classical Music and many other musical sources. Beautifully melodic and highly advanced harmonically, this music is completely timeless and sound today as fresh as it was at the time of its recording.

Both Bednarek and Zgraja play brilliantly and their virtuosity is stunning. The ideas and the sound were light-years ahead of their time, as was the concept of the duo, which was completely innovative on the Polish Jazz scene at the time. Sadly they recorded only one more album together (a live recording, which hopefully GAD Records will reissue ASAP), before parting, and never managed to work together again before Bednarek´s untimely death in 1990.

This album is not only an extremely important document of the Polish Jazz history but also a milestone in the "Art of the Duo" idiom and a luminous example of flute performances, which are among the most significant in European Jazz history. Zgraja, who now resides in Germany, still plays, composes and teaches music and is one of the top flute specialists in the world.

In retrospect this reissue again emphasizes the fact that massive amounts of superb music remain hidden and mostly forgotten in vaults and if it wasn´t for labels like GAD Records, they would be probably destined for extinction. Therefore, as usual, I extend my thanks to the label for keeping the Culture of the past alive and kicking!
---