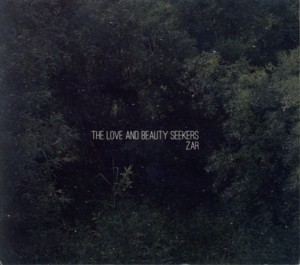 LOVE AND BEAUTY SEEKERS ~ ZAR
LOVE & BEAUTY 01 (Barcode: 5707471048733) ~ POLAND ~ Free Jazz / Improvised Music
Recorded: 2015
Released: 2016
---
This is the debut album by young Polish trio Love And Beauty Seekers

Find albums by this artist

, which consists of saxophonist Jedrzej Lagodzinski

Find albums by this artist

, bassist Franciszek Pospieszalski

Find albums by this artist

and drummer Szymon Gasiorek

Find albums by this artist

. The album presents eleven original compositions, five of which were composed by Lagodzinski, four by Pospieszalski and two by Gasiorek.

I had the pleasure to hear the trio live a couple of times in 2015, first in a small club in Krakow and than as guests of my Singer Jazz Festival in Warsaw, and was very impressed by the music they create. This album captures this music very authentically and presents one of the most interesting new ensembles on the Polish scene, even though as of now they reside in Copenhagen, where they still attend the local Music Conservatory.

The music of the trio is a unique amalgam of Free Jazz, Improvised Music, Punk and Romanticism, which results in an incredibly fascinating, vibrant and fresh sound and attitude. Although the music includes a lot of freedom and space, it also features beautiful melodic themes and coherent development of the compositions, in complete contrast to the chaos and mayhem that usually characterizes Avant-Garde music. The trio uses a plethora of effects, toys and other paraphernalia to create sounds that ornament their basic trio sound, which also broadens the overall result.

The individual contributions by all the trio members are absolutely perfect within the framework of their music. They are all equal partners and the trio is not a saxophone player accompanied by a rhythm section, but three musicians who play different instruments and create music together. Lagodzinski elegantly moves between playing gentle melodic themes and blowing his horn wildly, Pospieszalski switches between clear bass lines to freely improvised multi-tempo passages and Gasiorek, as appropriate for a gifted drummer, plays anything but basic rhythmic patterns, simply moving all over the place and creating layers of percussive embellishments.

Polish Jazz is a very fertile soil for Free Jazz / Improvised Music and the number of individual musicians and ensembles working within the framework of the Avant-Garde scene is stupefying. And yet this ensemble definitely stands out as a surprising contestant to the veterans of the genre with this mind blowing debut. I am already highly curious as to their next release, hoping it will be a worthy follow up to this debut effort, which won´t be easy to beat or even match easily. Respect!
---