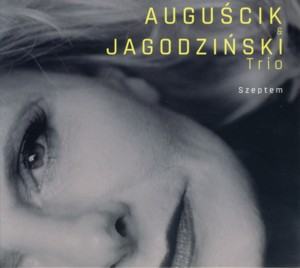 AUGUSCIK & JAGODZINSKI TRIO ~ SZEPTEM
MJT 11725 (Barcode: 5906409117255) ~ POLAND ~ Jazz
Recorded: 2016
Released: 2016
---
This is an exquisite album by Polish Jazz Diva Grazyna Auguscik

Find albums by this artist

recorded with the classic piano trio led by pianist / arranger Andrzej Jagodzinski

Find albums by this artist

which also includes bassist Adam Cegielski

Find albums by this artist

and drummer Czeslaw Bartkowski

Find albums by this artist

. The album presents nine Polish evergreens, beautifully transcribed into the Jazz idiom by Jagodzinski.

The album is a loving tribute to the Polish popular songbook, collecting nine wonderful ballads written over a period of many years by some of the best Polish composers and lyricists, which points out clearly what t takes to create a great song, which can last for posterity: a beautiful melody and intelligent poetic lyrics.

The songs are performed with a very minimalistic approach. Auguscik sings the melodies in a very straightforward manner, eschewing almost completely the typical Jazz mannerisms and improvisations (except for a few vocalese parts), emphasizing the lyrics which are pronounced clearly and elegantly. The piano trio, which provides the Jazzy background, treads also carefully, with Jagodzinski playing the chords behind the vocalist and soloing rather sparingly. It is the rhythm section which keeps the music swinging at all times and doing a superb work at that.

One can only hope that this album will find its way into the hands of the young generation of Polish music connoisseurs, who should be able to discover the treasures of their National musical heritage while listening to this music. However, if this music should reach only listeners in the third age group, it would be tragic overlook.

Both Auguscik and Jagodzinski should be praised for preserving Polish Culture in general and the Polish musical heritage, which they have been doing for many years. The fascination with music originating from other sources, which often blinds many Polish musicians as to their own roots, is luckily balanced by their activity.

What a great way to start a new year (2017) by writing this review, which talks about old, but not forgotten music, that has been given new life. Blindly idolizing the "new" has proven to be a disastrous path, so please let´s enjoy this wondrous journey into the past, for the benefit of the future. Kudos!
---